Rocco's own mobile app for quick pizzas and more
View(s):

Rocco's at Nawala, known to many of Colombo's lovers of Italian fare, recently leapt into the smartphone era by launching their very own mobile app. The whole range of Rocco's pizzas and other delectable treats are now available at your fingertips. Customers can easily browse the entire Rocco's menu from their smartphones and place pick-up or delivery orders.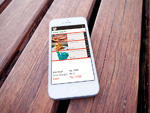 "It is the most convenient way of ordering; customers don't have to tussle with us on the phone any longer," jokes Judy Wikkramatillake, who launched Rocco's almost two years ago with her partner Krishanti De Silva. "They can view our entire menu, customise their order with their favourite toppings and place an order within a matter of seconds," she says. The app also keeps them informed of upcoming special offers at Rocco's, ensuring they never miss out on a deal.
Bringing a bit of fun into the equation, the app also allows customers to share their orders with their friends on Facebook and offers the added convenience by remembering their addresses, phone numbers and regular orders, making ordering even quicker and easier.
The app which was built by a Colombo based tech start-up, Encyte is looking to launch similar apps for other restaurants in the near future. "Ordering takeout has always been traditionally in the realm of the phone call; but we are seeing a rapid shift away from that. Fast-food chains in markets like the US are receiving as much as 40% of their orders digitally. With more and more Sri Lankans getting their hands on a smartphone, we can really make their lives easier with apps like these," says Asitha Vajirapani, cofounder of Encyte.
The mobile app which is currently available for the android platform will soon be made available to iPhone and Windows phones users as well. The app is now available for download from the Google Play Store. Rocco's is open for business Monday to Thursday from 5 p.m. to 10 p.m. and on Friday to Sunday from 5 p.m. to 11 p.m. Await opening times for lunch on Saturdays and Sundays.