Legends of Sri Lanka soccer
By: Subhani Hassimdeen – Former National Football Captain and National Coach
Peter Ranasinghe – Muzammil Hassimdeen – Mahinda Aluwihara
View(s):
If I am asked to pick the legends of Sri Lanka Football without any hesitation or reservation I will cast my vote for three individuals, namely Peter Ranasinghe, M.M. Hassimdeen and Mahinda Aluwihara. As a young lad, who witnessed them in action and had the privilege of playing with them, I am in an unbiased position to do so. Sport is the great leveller, teaches one to be humble in victory and determined in defeat, also teaches several other virtues that help to bring out gentlemen in life. Having observed these attributes in these three soccerites I decided to write about them as good examples for the up and coming young footballers.
Both Peter and Mahinda were mid-fielders, but Mahinda occasionally played as a forward in crucial encounters. While M.M. Hassimdeen was a born goalkeeper, on number of occasion has played as a full back in International matches.
Peter Ranasinghe, a gentleman par excellence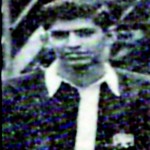 Peter Ranasinghe was a product of St. Joseph's College Colombo. As a schoolboy he excelled in soccer beside his brother Christopher Ranasinghe both represented the country in the mid 1950's. Christopher and Peter, the dapper-built six-footers and still a picture of fitness with a Johnson like athletic frame opted to play football. Peter's father himself was a soccer player who was an officer attached to the Forest Dept. and was stationed at the Forest Dept. quarters next to Govt. Service Ground (where the Cinnamon Lakeside Hotel is situated now). Living next to Govt. Services Ground, no doubt helped Peter gain fame as all time great in local soccer. As a young player when the others footballers leave the Govt. Service ground when the sun sets, Peter used to do his own skill fitness training alone in the dark. This was the secret behind his successful soccer career.
A highly respected soccerite and a gentleman par excellence on and off the field, yet to see in the football arena of our country. He was the centre of attraction whenever he entered the soccer field. A playmaker and a specialist in slip-shot tackling without any foul play or infringement he will simple put down any local or foreign attacking forwards with his slip shots — a treat to watch. I faced a bitter experience of one such slip shots when I played an exhibition match in the Mirihana Police ground, Nugegoda in the early 1970s when Peter led the Nugegoda league team against a combined XI. When both had a fall in the process of a hard tackle, he immediately got up, lifted me and said "Hassim I am sorry" – this is Peter Ranasinghe, a sportman of a very high calibre.
He graduated to first class football representing the Old Joes Sports Club who won the coveted CFA cup beating Cargills at the Colombo Oval (now the Sarawanamuttu Cricket Ground) in 1958. Peter played beside brilliant players like Durand Perera, Bagoos Saldin, K.M. Thomas and Anton Mariyadasan.
He successfully led Colombo Central Colours team to win the Prestigious Inter-District Championship in 1955 and 1956, conducted by the Ceylon Football Association.
Peter donned the National Jersey for the first time in 1953 at the Second Quadrangular Football Tournament held in Rangoon (Burma), under T.H. Soono's captainship. Peter captained the National team in 1954 – at the same tournament held in Calcutta. Ceylon beat Burma 2-1, drew with India one all and were Runners-up in the Competition. He led the National team from 1953 to 1959. During this period he was acclaimed the best centre back in Asia.
He represented the Colombo Commercial Company of the Mercantile League Football Tournament, the company he served as an engineer, later promoted to the rank of Director before he migrated to Australia. With such a football and professional background, Peter Ranasinghe led a simple and humble life. His leadership qualities and simplicity was highly appreciated and praised with whom he played and the thousands of soccer fans who saw him in action.
Muzammil Hassimdeen – Asia's best goalkeeper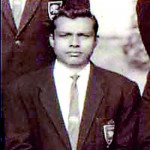 The Princely goalkeeper of local soccer, M.M. Hassimdeen commonly known as Hassim or Muzammi. Medium built, athletically built and strong, blessed with extra ordinary sharp reflexes, quicksilver hands and a technique almost flawless, he was the greatest goalkeeper that Asia ever had. Affable and amiable, he had an appealing boyish manner tinged with a touch of apprehension. But underneath that childlike occasionally naïve exterior, was a relentless perfectionism and a limitless capacity for work.
A product of Anderson College Slave Island excelled in football, athletics, boxing and basketball. Beside football Hassimdeen was a fine middle-distance runner. In fact on a number of occasions, he won 800metre and 1500meter at the Mercantile Athletic Championships. He was also a top drawer player at basketball and represented Newneham playground, Cargills and YMCA for many years. At the tail end of his sporting career he represented NCC at rugby as a full back.
As a goalkeeper for 15 uninterrupted years he held sway over the other's in his position, and not a single out of so many local goalkeepers did challenge his supremacy between the woodwork. His feats are innumerable to detail for he had excelled brilliantly to local football and in almost every Asian country, in his long and colourful career. Amongst his many admirers were Presidents and Prime Ministers of Asian countries like, Field Marshal Ayub Khan of Pakistan, Shri Jawalal Nehru of India, Tunku Abdul Rahuman of Malaysia and Sukarno of Indonesia, who on more than one occasion clasped his hands in appreciation of his unique performance.
In 1961 Joe Catterich, Manager of the English First Division Club Everton FC invited Hassimdeen to join the club. However, due his love and desire to perform on his home soil and amongst his innumerable admires was too much for him to part with. Also unable to leave his old parents, he declined the offer.
He was the first Ceylonese footballer to have played professional football both in Pakistan and India. He represented the Mohammedians SC – Pakistan's national champions for a number of seasons and he also represented the Mysore State team on their Far East Tour in 1963.
Both at school and club level he had no equals. At National level he was matchless. In international competitions, he was simply peerless. Literally he was doing aerobatics between the posts and to get past him was like piercing the 'Rock of Gibraltar'. Champion 1st Division clubs who visited us from Switzerland, Germany, Russia, Yugoslavia and Brazil hailed him as a truly world class Goalkeeper. A picture of physical fitness and technical perfection Muzzammil was a glut for hard and heavy training, the like of which cannot be witnessed today.
Perhaps many of us are unaware that this soft-spoken and humble sportman holds a unique record. He captained the National Football team both as goalkeeper and full back in two international matches and won in both Instances. This was in 1964, when he led then Ceylon against Pakistan (as goalkeeper) and against Swiss Red Star FC (as full back)
Though I was his brother, I too as a schoolboy admired and enjoyed his goalkeeping with the other crazy Hassimdeen fans. I also had the privilege of playing with him at club level and National level here and abroad.
I like to conclude this small history of Muzammil by quoting with few comments made by M.M. Thawfeek (famous Sports Journalist) "No goalkeeper has ever reached such standard and as I see it, there will be no match to him in the near future". Gamini Perera (Sports Journalist) wrote, "We will never get another Hassimdeen for another hundred years, Neville Abeygunawardena (Famous National Coach) said, "How much richer this nation would have been in football if we had a Hassimdeen between the posts. Unfortunately it is not to be. His whole playing career was built upon disciplined life and dedicated training. It is by dint of tireless training fired with enthusiasm and hope that the late Hassimdeen made himself into an almost national treasure, as far as the game was concerned.
Mahinda – a craftsman and playmaker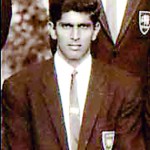 Mahinda Aluwihara, a product of St. Sylvester's College Kandy not only excelled in football, but basketball, athletics, hockey and boxing. He captained his school in both soccer and basketball and was a sprinter in short distance events at the Central Province Group meet. Leaving school he joined the Royal Ceylon Air Force (RCAF) in 1961. I had the privilege of associating and playing soccer with him when I joined the Air Force in 1965. At the Inter-Unit Boxing Meet held in the Katunayake Base in 1966. Mahinda using his long reach punch knocked the Superweight National Champion in the first round to win the title. A six-footer with a strong athletic built once beat the All-India goalkeeper Thangarajah with a 40 yards powerful drive which broke the goal net, in a Pre-Olympic encounter played in the Sugathadasa Stadium in 1964. Without a doubt I can mention that we will not find
another Mahinda Aluwihara in Sri Lanka for another couple of years. His height and built, skills and strength soccer sense is far to approach with the present standard of football in our country. At a time when Mahinda delighted the soccer fans, I was fortunate to play with him at club level and National level here and abroad.
He first represented the country in 1961 at the 3rd Asian Youth Football Tournament held in Thailand with youth players in the calibre of Ananda Weerasekara, Basil Fonseka, M.A. Ameer, M. Sivaratnam, P.H.S. Albert , Edward Wickramasuriya, B.H.H. Sally, H.A. Jayatissa, Nizam Hajireen to name a few.
The same year Mahinda played for the Ceylon team beside his brother Ratnapala Aluwihara at the first Southern Football Pentangular Tournament in Bangalore with Senior players in the calibre of C.S. Fernando (capt), M.M. Hassimdeen, Piyadasa Perera, P.D. Sirisena, Bagoos Sourjah, Ignatius, A. Vandergert, S.M. Noor, W.S. Botejue to name a few.
In 1964 when Ceylon won the first International match in our soil beating Pakistan by 3 goals to 1 under the captainship of M.M. Hassimdeen, Mahinda played an important role in this encounter.
Mahinda successfully led the RCAF to become the Inter-Service Champion in 1966, the championship which was won by the Ceylon Army for ten years continuously. I played in an unusual position as left extreme in this competition with Mahinda playing left inside. The same year RCAF entered the Inter-League Football Final conducted by the Ceylon Football Association.
Playing beside Mahinda at the Inter-Services Championship in 1966 and at the Agha Khan Gold final in Dacca, also couple of matches at that famous European Tour in 1968 is indeed a great privilege and honour to me as a soccerite.
I remember playing beside Mahinda a number of matches where he single–handedly changed the complexion of the game with his dazzling performance.
Mahinda led the senior National team in 1968 on that famous European tours with players in the calibre of M.M. Hassimdeen, Lionel Peiris , M.A. Ameer, M. Hamzath, P.D. Sirisena, Edward Wickramasuriya, A. Zainulabdeen, Amidon, P.H.S. Albert , S.M. Noor, M.A Fernando, S.P. De Silva. I had the privilege to go on this tour and play a couple of matches in Israel and West Germany.
A craftsman and playmaker with individual brilliance, positive attitude and deep commitment were some of high qualities that attributed and helped Mahinda Aluwihara to gain fame as an all time great in local soccer.