Kiss says he is very impressed with what he sees
By David Stephens
View(s):
To call Gergely Kiss' water polo journey a fairytale would be a dreadful injustice to the prolonged periods of gruelling training and severe disappointment the Hungarian has doubtlessly endured in and out of the pool. Still, the glowing career of the three-time Olympic gold medallist would leave countless athletes, who persevere tirelessly yet unsuccessfully to explore their outer physical and psychological limits, shadowed in a mixture of envy and admiration.
It was at the 2000 Sydney Olympics where Kiss entered into his nation's sporting consciousness. Leading attacks down the right of the pool against Russia, the 23-year-old played a vital role in clinching the gold medal his team would return to Hungary with.
There was more to come from the towering man from Budapest though, and once again it was the Olympics which would offer a platform for his brilliance. In the water polo finals at Athens in 2004, Kiss rattled in three goals past Serbia and Montenegro, including the game-winner, to give his team back-to-back gold medals and the chance of forging an Olympic dynasty, something they accomplished four years later when they claimed a third gold in Beijing.
Kiss has since retired from Hungary's national water polo team, opting to make room for young blood after appearing in the London Olympics. He continues playing at the club level though, where his powerful goal-ward left-hand throws, which won him a reputation as the world's best left-handed water polo player, still inflict plenty of damage.
He has also shifted his focus toward developing the game in countries less closely associated with it, which is why Kiss now finds himself in Sri Lankan waters.
"Last year I played in a Kuwaiti team as a foreign player for a tournament there. And there I met with the Navy club and I had contact with them and I advised them, sent them a training programme to help them out," Kiss reveals.
"Afterwards they (Sri Lanka Aquatic Sports Union) asked me to come down to Sri Lanka so I could help prepare the national team for the tournaments they have coming up."
Kiss, who arrived in Sri Lanka on June 6, will conduct the programme over three weeks and is slated to visit and advise several local schools and clubs, especially those outside Colombo where water polo is still to garner significant attention.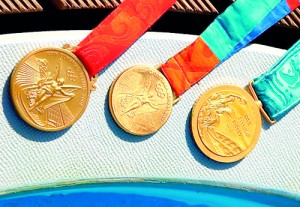 He will also put his famed playing skills to the test in an exhibition match between the Sri Lanka Navy and the Old Thomian Swimming Club on June 15 at the Sugathadasa Swimming Pool Complex from 4 p.m. onwards.
Having already spent some time with the national team and several other local players, Kiss says he is very impressed with what he sees.
"They are very enthusiastic and very focused. There is a big possibility for them to improve and do well because in Asia, Water polo is not a traditional sport like it is in Europe. I am trying to help them move a step forward and go to another level," he says.
An important aspect of this assignment revolves around wrangling in kids to the sport, a task which should not be too tough given their close proximity to water and conspicuous love of it.Kiss admits that a big part of his own success is due to the fact that he harboured an ardent ambition for attaining Olympic glory from his very early days in the sport.
"From an early age I was always hoping to compete in the Olympic Games and it started becoming a reality when I was 19 and I made it into the team as a left-handed right wing player.
"When I won the gold medal from Sydney in 2000 at the age of 23, it was the same feeling as seeing your newborn child. I was waiting from the age of 5 or 6 to have this feeling so I was very excited and satisfied," Kiss expressed.
His Olympic triumphs, although his most celebrated achievements, are by no means the only ones he accrued during his 380 appearances for Hungary in 25 international competitions. Kiss and his teammates count to their names gold medals in the FINA World Cup, FINA World League, European Championship and World Championships.
If he tackles his latest assignment with the same verve, diligence and expertise that have yielded his distinguished pedigree, then Sri Lankan water polo's immediate future looks to be slightly more golden.