Debated Martis vision yields results
By Aubrey Kuruppu
View(s):
Barely out of School, Sanath Martis began his long, momentous and largely distinguished career as a rugby coach, that has spanned almost 30 years.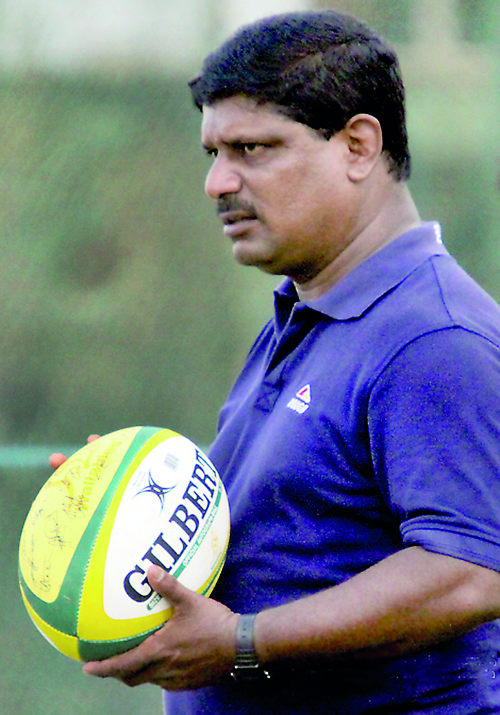 Having represented Isipathana College as a hooker in the years 1983 and 1984 under Rodger Rodrigo and Shabeen Siddique, Martis cut his coaching teeth, handling the Under-13 and Under-15 teams under his mentor O.W.R. Perera.
A bit of a rolling stone (however he did gather a lot of moss!), he coached his school from 1989 to 1992. Employment then took him to Kurunegala and he coached St. Anne's College from 1993 to 1996. During this time Kurunegala RFC also benefitted from his expertise. Wesley (1997-2000), Isipathana, once more, (2002-2004) and St. Peter's from 2005 to 2011. For good measure, he presently coaches the Royal College lads.
The portfolio is by no means complete, as he put the CR and FC through their paces in 2001, the Havelocks in the 2003 knockouts and CH and FC last year. National Development Coach in 2012 and 2013, Martis was promoted Sri Lanka Assistant Coach under Englishman Phil Greening.
Under his stewardship, Isipathana were the unbeaten triple champions in 1992, the knockout champs in 2000 and in one year, Isipathana won the Under-13, 15, 17 and 19 championships. St. Anne's were the Division 'B' winners in 1995 when Martis was in charge.
Martis has a treasured place in the annals of rugby at St. Peter's, having coached the teams to league and knockout honours in 2006 and 2007. St. Peter's completed the knockout triple in 2008. Probably his finest moments came in 2010 when, under the captaincy of Keith Gunesinghe, the Peterites were the unbeaten triple champions.
Wesley is currently a force to be reckoned with in schools rugby. Martis points out that in 1990s, the Wesley match was a mere warm up game for the better teams. He changed that concept and got Wesley to compete at a higher level. Results followed as Wesey beat Kingswood to win the Blaze Trophy after ten years in 1997 and the Thomians in 1998, after 34 years. In fact, Zulfiquar Halimdeen, an ex-Wesley player, doubled as fly half and winger for Sri Lanka.
Martis' views on a contentious and hotly-debated issue are revealing. He says that old boys of St. Peter's criticised him roundly for 'importing' players. However the results broke for themselves. Basically, everyone is following the philosophy of the much acclaimed Malik Samarawickrema. The finger was pointed at Kandy SC earlier, but now everyone does it. Martis makes a bold assertion when he says that 'today nobody can win a trophy without outsiders'.
In a hard-hitting statement, Martis takes on his critics. "Some critics haven't achieved anything in life. Hence the criticism?".
Martis is delighted that five of his Peterite products were in the starting line-up for Sri Lanka in the match against Hong Kong. They were Suhiru Anthony, Lee Keegal, Dhanushka Ranjan, Sandun Herath and Sharo Fernando. Sri Lanka rugby he points out is "benefiting by using talents brushed up at St. Peter's". Incidentally, Ranjan and Herath were originally from Piliyandala Central and St. Anne's respectively.
A pained Martis comments — "There is no appreciation, only criticism".
What of Sanath Martis the rugby player at club level. He turned out for the CR and FC from 1985 to 1989 and played in elite company of C.P.P. Abeygunawardena, Priyantha Ekanayake, Rohantha Peiris, Dilip Adihetty, Wimal Eparachchi, Michael Mathys and Christopher Jodasche.
An International Rugby Board (IRB) Educator, Martis is one of three coaches that completed the IRB level courses 1, 2 and 3 in Malaysia. The others being Nihal Gunaratne (Viper Jnr) and Ananda Kasturiarachchi. The Sri Lanka Rugby Football Union, says Martis, has taken steps to give some qualifications to coaches by conducting IRB level courses 1 and 2 in Sri Lanka. Even the referees have not been forgotten. However out of 25, only five have submitted the Division 1 match DVD etc needed for acceptance.