Letters
View(s):

Return Cosmo to its members

I left Sri Lanka in the mid-1980s not because of any ethnic problem but because of the openings that were available for Tamils in Western countries. This move was mainly for the benefit of my children's education. All worked well but my heart yearned for the land I was born in.

Now retired, I came to Sri Lanka to go down memory lane. Though Tamil, most of my friends were Sinhalese and we used to have lovely times together.

During my youth and almost until I left Sri Lanka, my favourite haunt was the Cosmopolitan Club at Dehiwala. After office I played a few games of tennis and with sundown, it was Bridge with a host of Bridge addicts. Sometimes we were at the club with a few shots of arrack to keep up the mood till about ten in the night. Many a day I reached home after 10.30 p.m. for the usual lambasting of my dear wife. It is most disappointing and saddening that my favourite Cosmo was closed. The municipality has taken over and just keeps it closed. True, it's on municipal land but it was a rude shock to me.

This club catered mostly for the middle class children who came from as far afield as Moratuwa, Nugegoda and Maharagama for their first tennis lessons here. This club down the years had also produced a few national champions. Often many a crony of Municipal high-ups would walk in for free hooch and many a day they were turned away disappointed. Is that a good reason for such a takeover of an established club started in 1929? Please Mr. President, you are such an enthusiastic sportsman; I beg you to restore this club and hand it over to its members.

S. Maniam
Canada

Health sector rests on team work

The main news item on Page 6 of the Sunday Times of May 18 on a death due to dengue fever should spark a public outcry on the state of the health sector in this country.

Although the nurses' strike could be blamed for such a death, my view is that it is the doctors' who should hold more responsibility. With my limited understanding on health related matters my observations are:

n With a few drops of blood many tests can be carried out: such machines are available in hospitals.

n Machines are available in hospitals that monitor the pulse, blood pressure and other parameters essential to check on life.
Health professionals such as doctors and nurses are expected to be competent in carrying out these tasks. Thus in the absence of nurses during a strike, doctors should do a bit more work to care for the patients.

After all we expect that they must work as a team and if one category of health workers is temporarily not available, the others must work to cover for them.

As stated by the Minister of Health, we look forward to a thorough, transparent and impartial inquiry into this matter. The doctors too should work in a dedicated manner to save the life of the patients, because the loss to the family is irrevocable!

K. Karunan
Batticaloa

Let us publish a book, 'Broken Promises' and present it to President

The Sunday Times understands the plight of the pensioners and publishes numerous letters about anomalies and unpaid pension arrears. Yet we do not even have a glimmer of hope as to when the arrears would be paid and anomalies rectified.

I wish to make a request to fellow pensioners. As a last resort, let us collect the newspaper cuttings of all the letters written by pensioners, paste them on papers, bind them into a book that should carry the title 'The Broken Promise" and present it to the President on appointment. I am in my 82nd year and time is fast running out.
V.K. Wijeratne
Makola North

If only CBK and MR had been in the public service

Although several letters have been written on the plight of pensioners, I wish to add a few of my thoughts.

President Mahinda Rajapaksa and former President Chandrika Kumaratunga were born in 1945. If they had joined the public service, they also would have been going through the same plight.

Most public sector pensioners have worked under the strict rules of the FR & AR in all parts of the country for some 35 years. Some under the compulsory Public Service Act of five years were deprived of a passport to travel or study abroad. The much delayed salary circular of 2006 deprived these officers of a decent pension and retirement car permits.

Those who made the 2006 circular are the new breed of CAS officers, unlike the former Civil Servants. They have little or no respect for the officers who served before them. It is only the President who can remedy the injustice. There is no point in appealing to the same authorities for redress.

D.M. Gunaratne
Colombo 5

What's the mighty hurry?

If you go to a bank, you will see an orderly queue, but people in the queue are restless and looking in the direction of the counter, wondering what the officer is doing. Some try to jump the queue to get their work done fast.

If you go to a bus stand, the situation is the same. Ordinary people including housewives and senior citizens are in a mighty hurry to get into the bus disregarding the queue.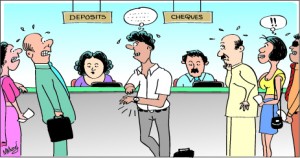 If you go to the council to pay your taxes, it is the same story.
If you look at a supermarket queue, say around 10 a.m. when the "office and school" rush is over and all is quiet, people in the queue are uneasy and nervous as if they have to catch a plane.  They keep on making remarks about the lethargy of counter girls, how slow they are and how they chat inbetween with their adjoining counter staff.
I have observed some of these people in long conversations with friends or acquaintances after they had got their work done by jumping the queues.
Even in temple or at prayers, people seem tense.  They want to finish praying and get out.
People are restless everywhere. This is one of the main reasons for their health problems as their blood pressure rises under these circumstances. People are not ready to relax in any situation.
Just learn to relax — think that the next man's requirement is more important and urgent than yours and try to be compassionate. This will lead to a life of tranquility. Practise universal kindness or Mettha which is "may all beings be happy and safe."
Sumith de Silva
Polgasowita
Handcuffing students not murder suspects!
It's interesting to note that Police handcuff university students taken into custody but not murder suspects who end up being killed while attempting to take up arms against the Police.
At the rate the suspects are being killed, courts will have fewer murder cases and we do not need to fill the vacancy for the 'Alugosuwa'.
A.G. Weerasinghe
Gangodawila
Tuition business and unscrupulous teachers
Private tuition was a much spotlighted and discussed subject in the media. Earlier it was private tuition for students who were weak in certain subjects, but now tuition is a big business.
I recently came to know that some unscrupulous teachers use many a crooked way to draw students to their tuition classes. One such method is by giving low marks to students (at school examinations) who do not attend their tuition classes. Result – demoralising the students and keeping the parents wondering.
What is the necessity for tuition? If teachers teach conscientiously and efficiently and the students give their full attention and imbibe the substance that is taught, is tuition necessary? There is much indiscipline in schools nowadays. I wonder whether teachers and parents make a genuine effort to halt this serious manifestation. This may be one reason for tuition. Tuition classes are proliferating and spreading like a cancer!
Shouldn't the education authorities and civic minded public give thought to this rather disturbing trend and find solutions for the good of the students and parents? There is a saying these days grade V scholarship exam is a mothers' exam, O-levels is a teachers' exam and the A-levels is the students' exam!
Elmo Ediriwickrema Mattakuliya