Appreciations
View(s):

Rev. W.G. Wickremasinghe

All wanted to send their children to Trinity when he was principal

My first meeting with Rev. Dr. WGW was when I ventured in to the Principal's office, in Trinity College Kandy in connection with my elder son's school admission.

That encounter turned out to be proverbial: "The first impressions…the most lasting".

It had so happened that Rev Willie and my father's elder brother, Daniel Jayaratne, had been classmates at Carey College. And it also so happened that Rev. Willie and my father, Don Samson Jayaratne died on the same day – 21/03/2009.

With time, my friendship with Rev Willie blossomed. I asked him once, "Sir, being a Baptist stalwart, how come you are Principal of Anglican Trinity?" His curt and ready reply was, " My friend, I am here, solely at the insistence of Bishop Lakshman Wickremasinghe (then Anglican Bishop of Kurunegala) who was not prepared to take 'no' for an answer." Thus had Rev. Dr. WGW switchedprincipalships from Carey to Trinity.

Mention should be made here that Trinity flourished under his principalship. A veteran educationist, Rev. Willie had the unique knack of identifying teacher talents. The focus of his emphasis was more on the quality of  grades one through five,than the GCE levels. It was the time that people thronged to admit their sons (some even daughters) to Trinity. The upshot of it was that, almost every student in the primary school when Rev. Willie was his Principal has become a person to be reckoned with in whatever country, city or town throughout the world.

The college swimming pool was Rev. Willie's brainchild. Amidst unfounded charges and criticism he was determined to make swimming a recreation not only to the Trinitians but to outsiders as well.

The Trinity Farm in Pallekele was in disarray when Rev. Willie became principal. Funds were badly required to set up a Farm School at Pallekele. Rev. Willie contacted his friends abroad, and lo, an influx of donations emanated. The farm and its school became such a success that Trinity attained self-sufficiency in food. It's regrettable that none of his successors could make it survive!

When Trinitian minister Gamini Dissanayake  mooted  that Asgiriya be made an international cricket stadium it was the ever unflinching support of the principal the former banked on. Rev Willie was all guts and made it come into being.

Rev. Willie's Christian sympathy toward the lesser fortunate was edifying. He made many students free-scholars whenever the parents of such students faced financial difficulties.

However, Rev. Willie was no avatar. He had his faults. The worst was pinning faith – though innocently and in good faith- on some who ungratefully let him down. His faithful wife, Madam Iranagani  saved him from many such pitfalls. As the first lady of Trinity, Madam Irangani was hard-working and sturdy until her fateful hip injury.

To sum up, everything around Rev. Willie was spick and span. He dressed nattily even when just at home !

The Great Scorer must have written

Against the Reverend Doctor's name:-
What with his faults
WGW was a gallant man
All-in-All !!!

May the late Rev. continue to Rest in Peace !!!

-Bandula Jayaratne

M.I. Abusalihu

Memories of a grandfather who lived life to the full

I am a person who has travelled the world, met different people and moved on -such is the life of a 'diplomatic' family. However, there are a few things which have remained constant, such as my family, both immediate and extended. Several in my 'wider' family have spread around the world. However, no one forgets that our roots lie in Sri Lanka. I remember the times in our family house in Dehiwala, Colombo. Of those who lived in that house, there was one constantly present. He was a man for whom I have the utmost respect; my grandfather, Mohamed Ibrahim Abusalihu.

On May 20, he passed away peacefully, in that very house in Dehiwala. There are many who lament his passing, wishing that he had stayed with us for a while longer. However, I do not write this to lament his death, but to celebrate the life of the man who was Al Haj M. I. Abusalihu. He lived a long and fulfilled life, with children, grandchildren, and even great-grandchildren. How can anyone say that his time on earth was not enough, when he clearly had those who loved him and stayed beside him? I do feel sadness at his passing but I have always believed that those who have lived a long life can surely find peace in death. We have all been taught as Muslims; to not fear death as all men die, but to make the most out of life with those you love.

As with several of the older generations in my family, my grandfather worked in education. He was the principal of a school in his 'hometown'. During his tenure as principal, he aided in the education and upbringing of many students. Incidentally my father was a student under him. He was a principal, teacher, educator and a figure of authority. To me, however, he was a grandfather.

I have many fond memories of my time with him. He would take me to the zoo and we would watch the lions, the tigers, the monkeys, and the birds, and of course, the elephants. I would always enjoy those small outings. He would always take the time to make me feel happy.

There are those who will say that my grandfather was a good Muslim, that he raised a family of good human beings and good Muslims. I rejoice that my grandfather was both a good person and a good Muslim. And there is no doubt in my mind that he was truly Sri Lankan. My grandfather was a man who never hid his thoughts or feelings from others, he possessed an open personality.

My grandfather died in peace at the age of 85, with family members by his side. It is the life he lived that we must remember.
May Allah bless the soul of my grandfather and may he enter the highest place in Jannathul Fir-Dhouz.

- Imadh Azeez

Janet Balasuriya

A legacy of achievements, compassion and love for fellow beings

"Successful is the person who has lived well, laughed often and loved much, who has gained the respect of children, who leaves the world better than they found it, who has never lacked appreciation for the earth's beauty, who never fails to look for the best in others, or give the best of themselves".

Janet Balasuriya became a legend in her own lifetime. Full of life, brimming with joy and happiness is how I remember my dearest friend Janet. I met Janet only in the new millennium, but it seems she has been a dear friend for a lifetime.

We were both members of the Women's Chamber of industry & Commerce, working on the same Board for a number of years. We really came to know each other and became friends only after our first trip to New Delhi together with two other colleagues from the Chamber. When we landed in Delhi it was late evening and the accommodation reserved for us was a disaster. Janet holding on to a bouquet of flowers presented to her by the son of a dear friend of hers, charmingly accepted the offer made by him to occupy an apartment his parents owned in the city. We stayed in the lap of luxury.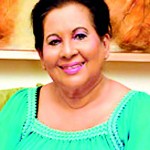 Janet knew people from all walks of life and was truly an icon in the world of beauty care. She told me at the beginning, she put in long hours of work to keep the home fires burning. Her turning point was when the agency of a well known brand she held was given to another company. Being a true entrepreneur, She took a bold step and turned disaster into an opportunity by manufacturing her own brand– the Janet range of beauty products.
Janet and I became firm friends when in 2003, we were both selected as Leading
Women Entrepreneurs of the World by the Star Group USA. We were the first two women from Sri Lanka to receive this award together with 13 other women selected globally. We shared a memorable trip to Bermuda to receive our awards and the wonderful time we had there brought us closer to each other.
Janet won many awards in her lifetime and became a household word in our country. She was the kindest, most unassuming person I have ever met. She had the capacity to laugh and enjoy the simple things of life. She was truly beautiful. Her beauty and goodness was not on the surface but it came from deep within her. The many women she has trained and helped free of charge, have now means of a livelihood.
She was the one I could most rely on when she was a board member of the WCIC. When it came to programmes on upliftment of women, she and Sita were the ones who advised and guided me, during my tenure of office. Recently, she talked to me about her latest project to train inmates at Mulleriyawa Mental Hospital. She had started teaching hairdressing to these hapless women, abandoned by society, who had found a place in her heart.
I called Janet on May 13th around 4 pm but she did not answer. Exactly 15 minutes later she returned my call and I told her I was selected by Zonta as a Woman of Achievement for the year 2014. She was overjoyed and promised to be there at the award ceremony on May 25th. She also told me that she had noted down all her memories and asked me if I could write her life story. I said I was trying to finish writing a book I had undertaken of Dr P.R Anthonis and would not be able to finish hers by November 13th which was her eightieth birthday. But I promised to come by on the 16th or 17th and select photos and help her to get the data together. I had actually planned to write something special for her on her 80th birthday.
She was bubbling with joy and laughter but then, a few hours later she was gone. Her work was complete, she was strong in her faith, she was wise in incorporating the strengths of her children to establish her company. An entrepreneur never retires or dies, they just fade away when their work is done.
Janet, your journey through life is etched in gold. You will always be remembered for your achievements, for your compassion and love towards fellow beings and above all for being truly a woman of substance. May you now find the peace and tranquility you so richly deserve. We will always miss you.
Moriturite salutamus – We who are about to die, salute you
- Indira Senanayake Kulatilake