INWARD BOUND: Mindfulness as an Executive Capability
View(s):

(Author – Deepal Sooriyaarachchi. Published by Olympia Publishers, London and available only at Sarasavi bookshops in Sri Lanka). Reviewed by Rohan Wijesingha

Nilambe in Galaha, on the crest of the range of that name, that connect the hills of Kandy to those of Nuwara Eliya, where the only sound that intrudes on the sighing of the wind through the leaves of the tall, weathered trees, is the call of the Mountain Hawk Eagle summoning its mate to a dance on the currents of warm air that thrust upward from the valley floor, far below, to the fleecy white clouds and bright blue sky against which the large birds are soon just tiny specks, in an aerial waltz that was learned long before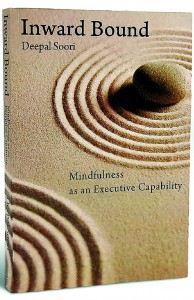 Humanity stood upright. Surely it is in such surroundings that same Humanity can find the tranquillity necessary to find an inner peace to combat the stress and doubts and fears and pressures that plague the civilized existence that it has constructed for itself over 10,000 years of cerebral evolution. And it was to such a place that Godwin Samararatna, a man who had mastered the maelstroms of the mind with the gentleness of ancient wisdom, sought to headquarter his learning and teaching, and to give refuge to those who sought escape from the mental strife in their life, or to seek greater knowledge than that provided by the textbooks of material advancement. It was to this seat of sublime wisdom, and the calm, measured teaching of its gentle Guru, that Deepal Sooriyaarachchi was drawn to over 20 years ago.
Deepal is a remarkable story of persistence, self-belief and fearlessness in taking the plunge into pools of uncertainty made safer by his methodical reasoning for taking up the challenge. From a clerk in a shop, he rose to be the Chief Executive Officer of a 'Blue Chip' Corporate entity, not because he was a favoured son of Colombo, Deepal hails from Horana, still a fair distant from Colombo, but because he 'mapped' his career through a process of logic that overcame any obstacles that would have inevitably been in the way of someone not as advantaged as his peers. Learning, and even more learning, was the catalyst for this upward movement, and with it, a gentle assurance that made him a leader that is respected not only by those he commanded, but even by those he competed against. None will deny his success, and what makes that success even more worthy is that he now spends his time teaching those lessons he learned along the way, with new insight, to those who would wish to walk that same path of achievement.
Deepal has developed a deep understanding of the stresses that intrude on the everyday working life of even the most efficient and highest performing executive…the doubts, the fears, the intrusion of the unnecessary, and the curtailment of that most desired luxury – time! He knows that in the intense competition of the present, that there is little time to rest on one's laurels, for challenges and challengers hover just around the corner to grab unguarded places and spaces. Survival in the modern corporate world is indeed to the fittest; there is no room for the weak. To be a success, an executive must not only be of ordered mind, but also be able to order that mind to take respite even in the midst of all of the rush. That is the mindfulness that can enhance executive capability, and that is why this book, and the practice of its contents, cannot be ignored if an executive is to survive in this tough contest that is Corporate Sri Lanka.
Alas, Godwin Samararatna is no more. And to whisk high-level executives to Galaha for a week's training in mindfulness is no longer practical, for much can happen in a week, and every ship must have its captain on board while in sail. But Godwin's teachings have been learned and adapted by Deepal for the world of 20 years later.
And this is where Deepal and his book, Inward Bound, are so valuable. The lessons are taken from everyday life and demonstrate a clear understanding of what is possible and not in an executive's life. Some of the exercises can be done whilst sitting in your office, others while driving to work, and yet others when at home, in bed before you sleep. The logic for all of these actions is clearly explained in simple language very reminiscent of the manner of Godwin Samararatna – gentle persuasion through explanation and shared knowledge. My favourites are the breathing exercises from which it is possible, I can assure you, to reach a level of disengagement from one's physical self that leaves the mind cleansed on its return to corporal connection.
I have had the great pleasure of being on a course of study conducted by Deepal in which he introduced the participants to the techniques of relaxation and mindfulness as documented in this book. As with his writing, Deepal teaches very exactly and demonstrates that inward consciousness in his every word and every demonstration – mindfulness in teaching. Little, if any, goes to waste, and the learner is aware that he / she is left with the essence of what is necessary. This is replicated in this book which, too, must be read carefully to savour its important message and to capture its essential practice.
I would recommend this book to anyone who currently enjoys a high position within the corporate world, or aspires to reach there. Its great value lies in the clarity of its presentation and in the choice of techniques it gives the reader to choose that best fits. So that, like the Eagles of Nilambe, an executive may catch the best updrafts and soar amongst the peaks of success with a mind as clear as the blue of Galaha's skies.