'Senkadagala Rajasinghe' is in the making
View(s):
Based on the final film script written by late Dr. Tissa Abeysekara on Sri Wickrema Rajasinghe and the Kandyan era Senkadagala Rajasinghe is to be made into a film by award winning filmmaker and teledrama director Sudath Rohana. Shooting of the film which is in its pre-production stage is to be started in August in Kandy and it is to be released for public screening in March 2015 in coincidence with the 200th year of signing the Kandyan Agreement. The film will be shot in Kandy and other locations centring the Sabaragamuwa Province and huge sets are to be made to recreate the king's palace and Dalada Maligawa.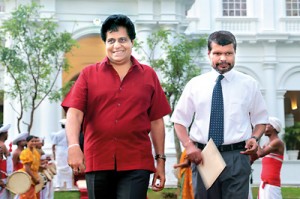 Talented actor Bimal Jayakody is to play the role of Sri Wickrema Rajasinghe while Pilimathalawe Mahadikaram is to be played by Sanath Gunatillake. Director Sudath Rohana has started casting.  Camera for 'Senkadagala Rajasinghe' will be handled by Channda Deshapriya, make up Nalin Prematilake, art direction Welegedara Ranasinghe, production executive Nimal Wijesiri Senadheera and Raja Ranasinghe and the music direction is by Rohana Ranasinghe. H. D. Premasiri for Serenity Entertainment produces the film.
Sudath searches stars for extras
Director Sudath is searching for armature stars to play for the extras and he invites male and females above 18 years of age and children to come to the Western Province Aesthetic Centre (In front of Planitararium) at no 275/74, Stanley Wijesundara Mawatha, Colombo 7 from 9 am onwards on May 17, 18 and 24 for interviews. Further details could be obtained by calling on 0773537037, 0773553999 or 0773048449.