'Hunuwataye Kathawa' at the Wendt
View(s):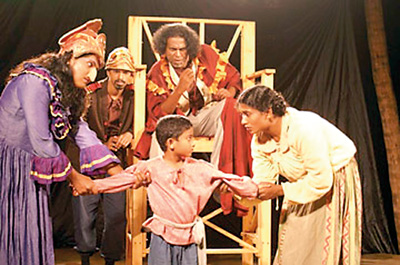 "Hunuwataye Kathawa" directed by Parakrama Niriella, depicting Bertolt Brecht's epic drama style will be performed at the Lionel Wendt at 7.00 p.m. on Sunday May 11 (today).  The play was adjudged the "Best Drama" at the State Drama Festival 2014 and bagged five awards. Produced by Janakaraliya Cultural Foundation, Hunuwataye Kathawa was performed at the International Drama Festival in Kerala in January 2014.
Performing Artists Sanjeewa Upendra, Selvaraj Leelawathy, Ronika Chamalee, Sathis Surendra Ekanayake, Nishantha Kularatne, Sumudu Mallawaarachchi, Rasaiah Lohanandan, Arosha Tharanganie, Devran Sri Livera, Murugesu Ajanthan, Palitha Abelal, Inoka Lankapura, Sarath Banagala, Amil Dinesh Kumara, Vijitha Hettige, Kumareshan Mahendiran, Thilini Nimesha, Madeera Udishani, Samanlatha Dissanayake, Dinusha Alahakoon, Thiyagaraja Sivanesan, Alaguraj Yashoprasad, Duminda Mendis, Nipun Nirmal Bandara performs in the drama.
Music is composed by Sumudu Mallawarachchi. Ajanthan Shanthakumar provides stage lighting. Stage management is by Arosha Tharnagani while Ronika Chamalee contributes as choreographer and assistant director. Jude Srimal is the main organizer of the drama and all seats are box planned and tickets are available only at Lionel Wendt Theater.