Getting what you want is just a click away
Quickee.lk that started off as a late night grocery delivery business has now expanded operations to satisfy its growing customerbase
View(s):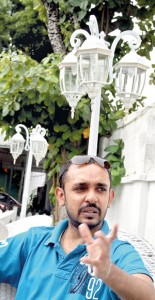 Ashan Whittall and Mariam Moosa were lazy victims of late night food and beverage cravings. They just could not head out to get themselves a few bottles of soft drinks. If only someone could just deliver it to us, they thought. And that's exactly how the concept of Quickee.lk was born. 
Ashan and Mariam made their idea a reality in March last year by starting a delivery service that operates in Colombo and its suburbs. With a range of products listed on the website Quickee.lk, customers can simply browse, choose from and place their order on the given hotline.
Staring off as a late night grocery delivery business Ashan and Mariam invested pretty much everything they had in getting the venture started. They later approached popular fast food restaurants to deliver late night orders and in time a few other restaurants joined in. Today, Quickee.lk has a wide range of fast food menus, beverage and clothing available for customers. Orders from well known restaurants like Hotel De Pilawoos, Seven Eleven, China Doll and Paan Paan are undertaken.
"Our customer base is quite strong and we deliver hundreds of orders daily. Our service is to give the customers what they want and as fast as possible" says Ashan who is Head of Operations. "It's a costly affair to sustain this business." There are four other stakeholders along with their initial investor, Shiyaz Naleem, Ashan explains. Quickee was begun with just three delivery bikes and now they have 25 bikes daily dispatching the deliveries.
Quickee's Finance and HR Manager, Mariam Moosa said "We have a staff of 25 and we are hoping to recruit more people." Asked about the greatest challenges in the business, both Ashan and Mariam confess it's having patience. "It's all about giving the customer what they want. As long as our customer is satisfied our business will survive. We are hoping to add more components and develop the business," says Ashan.
Quickee is planning to host a launch very soon and improve their procedures and structures with more focus on customer-satisfaction, public relations and the range of products offered. The improved Quickee will offer anything and everything to the customer, they say and plans are afoot to issue Membership cards that will facilitate customers according to their personal preferences for the products offered. This will be supported by an IT system. Quickee.lk is hoping to operate as a personal concierge of its customers very soon.
Ashan says the market and business opportunities in Sri Lanka are vast. "I quit my job because it was no longer challenging and then this new idea interested me. It was difficult to start but in the course of months and sleepless nights, our business took a turn and improved. I work to not just help Quickee improve, but also to help other small scale businesses to get their brand out and work with us."
"There will be people that will put you down and some that will support you. Not everyone will see what you see, so for the youth that have great ideas and new business concepts in mind, I say, go for it. You will succeed," Ashan says with confidence.