Randev Pathirana regains top slot pushing Lahiru to second place
35th Bata-the Sunday Times Most Popular Schoolboy Cricketer of the Year 2014
View(s):
Randev Pathirana of Royal College Colombo raced back to the front as he regained the top slot of the All-Island Schools category of the 35th Bata-the Sunday Times Most Popular Schoolboy Cricketer of the Year 2014 contest. Randev's progress forced last week's leader Lahiru Wickramasinghe to the second place of the race as he obtained a lead of 2086 votes, which is an overwhelming count.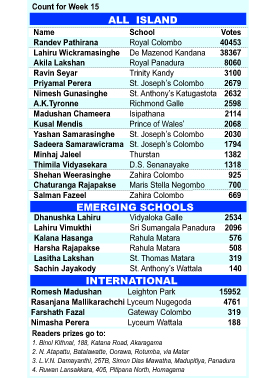 Last week Randev was trailing Lahiru by 699 votes and during the ended week he managed to gather a staggering count of 6097 votes which put him in a strong position as the competition nears its end. Lahiru's addition to the count from last week, which was 3312 votes, deemed to be enough to retain his top position, eventually became an insufficient add up. With merely five weeks remaining to the end of the competition, the game still looks on, but the top two contenders seem not ready to give in even at the eleventh hour.
The third in the race, Akila Lakshan of Royal College Panadura has not added a single vote to his tally but remains secure at his position with next in line, Ravin Sayer of Trinity College Kandy trailing him by 4960 votes. Lakshan may not have the opportunity to challenge Randev or Lahiru but a few more votes to his tally can further strengthen his position.
While others in battle, Priyamal Perera of St. Joseph's College, Nimesh Gunasinghe of St. Anthony's College Katugastota and A.K. Tyronne of Richmond College Galle remain respectively at fifth, sixth and seventh, Madushan Chameera of Isipathana College has impressively moved up to eighth position gradually. Madushan's progress pushed down Kusal Mendis of Prince of Wales' College and Yashan Samarasinghe of St. Joseph's College further down in the top ten.
Danushka Lahiru of Vidyaloka Vidyalaya Galle continues to lead the Emerging Schools category for the 15th consecutive week. He remains unchallenged by the rest of the contenders but his closest rival Lahiru Vimukthi of Sri Sumangala College Panadura possesses the possibility of challenging him. The deficit between the two is just 438 votes.
Romesh Madushan of Leighton Park has impressed further after claiming the top position of the International Schools category. His tally went up by 957 votes to 15952 and enjoys a healthy lead of 11191 from Rasanjana Mallikarachchi of Lyceum International Nugegoda.
Coupons of the 35th Bata-the Sunday Times Most Popular Schoolboy Cricketer of the Year 2014 will appear on Wijeya Newspaper's dailies, the Daily Mirror and Lankadeepa and also its weekend English issue, the Sunday Times. Readers will be able to send in as much as coupons in favour of their favourite schoolboy cricketer until end of May.