Grief amidst New Year celebrations as 94 die in accidents
By Nadia Fazlulhaq
Non-enforcement of demerit system encourages chaos, says ex-officer
View(s):
New Year is all about joy and celebration but the dawning of this year's Sinhala and Tamil New Year has brought grief to the loved ones of about 94 people who lost their lives in road accidents during the festive week.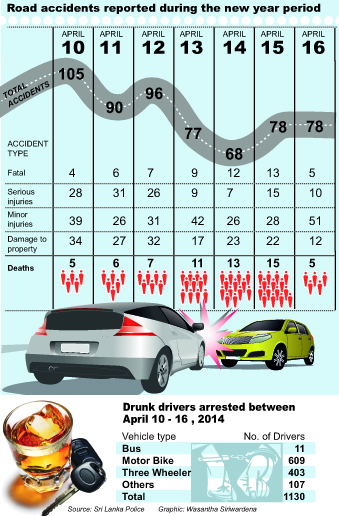 In the latest tragedy, on Friday, four children were among 10 people who were killed when a tractor loaded with 21 villagers toppled into an irrigation canal in Aralaganwila, Polonnaruwa.
Eight passengers were rescued while three others managed to jump off the tractor in time.
Civil defence force officers and relief officers carried out the rescue operation.
This was just one among nearly 600 accidents that from April 10-19 killed about 94 persons and injured 400. The highest number of accidents was reported on April 15, the day following the New Year. Fifteen people died that day.
Out of a total of 592 New Year accidents, 56 caused deaths, 126 caused critical injuries and 243 resulted in minor injuries. In 167 accidents there was damage to vehicles and property.
Also on Friday a Navy vehicle toppled over in Trincomalee in the Pudukattu-Pulmuddai area, killing two Navy personnel and injuring four bystanders.
Three people died and 18 were injured when two buses crashed into each other in Kalmunai last Sunday, and 25 passengers were injured when two buses travelling along the Hatton-Norwood road collided.
Tragedies from accidents involving motorbikes and three-wheelers were plentiful.
In one, 18-year-old Kasun Deshapriya and 19-year-old Ruchira Madusanka, who had been riding a motorbike along the Panandua-Ratnapura road in Horana the day after New Year to meet up with friends, died when their bike crashed with a van.
A two-year-old child died on Sunday in a three-wheeler accident when the vehicle's driver – who was also the child's father – fell asleep while driving and hit a parked lorry at about 4pm. The injured driver and the child's sister were admitted to the Peradeniya Teaching Hospital.
A 13-year-old girl died when a van hit the motorbike on which she was travelling with her father on New Year's Day.
Police reported that two people, 23-year-old Nimanthi Dilrukshi and 30-year-old Gayan Jayathilake, residents of Borelesgamuwa, were killed when the car they were travelling in on the Kurunegala-Anuradhapura road in Wariyapola tried to overtake another car and hit an oncoming bus.
A former Deputy Inspector General of Police (DIG) Traffic Administration and Road Safety warned that failure to enforce the driver demerit point system was encouraging speeding, reckless driving and drunk driving related accidents.
He said that although the demerit point system had been gazetted and was announced to have been implemented from January 1, 2013 it had still not come into force.
"Police, Motor Traffic Commissioner's Department and Courts should collectively work towards the immediate implementation of the demerit system," the former officer said.
"There is a need to increase punishments threefold. At present the punishments are insufficient. Punishments such as cancellation of driving licence, suspension of the licence for 12 months or more, heavy fines and jail sentences will force motorists to abide by the law and avoid reckless driving, speeding and drunk driving."
The former DIG also said there should be more traffic police deployed during the festive season, when the highest number of road traffic violations and accidents occurred.
"Usually there is lack of policemen on duty during New Year time as they go to their home towns," he said.
He also called for breathalysers to be used islandwide to identify drunk drivers.