Festival free of foul food: Over 700 traders in soup
View(s):

Four days of raids aimed at cracking down on traders selling contaminated, adulterated and outdated food items unsuitable for human consumption have resulted in legal action against 704 of them during the festive season.

"The number of arrests has increased from 387 last year to 704 this year. This has been following raids targeting 158 towns throughout the country," said Public Health Inspectors'(PHIs) Union Secretary Senerath Bandara.

Among those arrested were owners or managers of 141 food processing plants, bakeries, food outlets and tea boutiques, he said adding that the total value of the seized and destroyed goods was about Rs. 6.4 million.

Among the destroyed items were adulterated spices, unhygienically prepared food and bakery items made of outdated ingredients, mildewed cakes, and sausages and other processed meat not stored at proper temperatures.

Mr. Bandara said that during the festive week, public health inspectors received 52 complaints with a majority of people complaining about mildewed cakes, date-expired biscuits and unhygienic tea shops.

"Last year during the New Year period, public health inspectors found boxes full of date-expired Swiss rolls being readied for re-packaging in new covers. This festive period, we targeted Swiss rolls and similar food items which are given as gifts when people visit relatives," he said.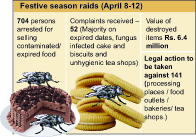 Last week, health inspectors in Kalutara seized 400 kilogrammes of sausages in raids conducted in a number of southern towns. Although sausages should be stored at temperatures below 4 degrees Celsius, health inspectors found they had been stored at temperatures as high as 19 degrees Celsius for many hours, making the sausages unfit for human consumption, Mr. Bandara said.
The Colombo Municipal Council's public health inspectors too conducted inspections and raids on food outlets, eateries and bakeries in the city, especially near the Colombo central bus stand and in the Pettah. Stocks of outdated cakes, sweets and fruits that were unsuitable for consumption were destroyed following the raids during the festive season.