Small movie miracles
By Duvindi Illankoon
View(s):
Sachi Ediriweera's 'Wildlings Within', a tale about a young tribesman who must defeat predators on his land to earn his rightful place in the tribe, is intensely gripping in the way only a short film can be. For 10 minutes and 57 seconds, you'll chase the young boy through the dense woods and feel his joy and despair as he transforms from a boy to a man.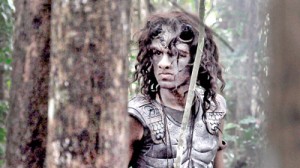 For Sachi, who founded and runs Filmbox (the production house behind the film), shooting 'Wildlings Within' was nerves, excitement and exhilaration all rolled into one. Sachi is no stranger to the world of film. In 2010 he wrote, produced and directed 'A Small Miracle', which was promptly picked up by Shorts International, a company which also handles Oscar nominated short films. Unfortunately, it also meant that Sachi and his team couldn't screen it anywhere else for seven years til the contract ended. It's a price they were willing to pay, considering the odds.
The young director schooled at Rahula College, Matara and has been fascinated with the world of cinematography for as long as he can remember. "It wasn't like, I watched a movie and decided this is what I want to do with the rest of my life," he says. He started out as a 3D animator, inspired by the slow motion theatrics of The Matrix. "I guess you could say The Matrix is one of the strongest influences behind my decision to go into animating and film making," he shares. "My friend and I had our hearts set on recreating that infamous bullet time effect from the movie so we had to learn 3D Max, experiment and watch a lot of different movies to get that right. I was hooked."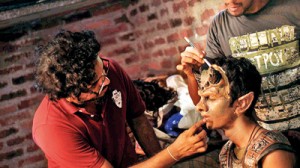 He didn't immediately make the transition from the screen to camera- "It was never that I woke up one day and decided to get behind the screen. I spent much of my time learning about cinema, studying scripts and learning how to properly recreate a dramatic scene." Inspired by the revolutionary technology and cinematography of films like Jurassic Park, and the simple vein of storytelling behind Disney films, he set out to learn what he could from whatever material he could find. In addition to being a filmmaker, Sachi is also a graphic designer. He has been fiddling around with design since he was 12 and illustration more recently, and has been rewarded for it with accolades at the Middle East Film and Comic Con Character Design Awards, and was the United Nation's Sri Lanka Digital Art Winner last year.
In 2010, while he was employed as a graphic designer for a company abroad, Sachi sought out a degree with a local institution to hone his skills. "At that time I had a fairly decent design portfolio," he remembers. "One design institute told me outright that I didn't have enough design basics in my work. It was bit of a blow. So there I was with some money, which I decided to use for a short film instead!"
And so, armed with a script, his savings and a team of friends who were also professionals, he shot 'A Small Miracle' in the same year. "Short films are a great way to put your craft in to practice," he says. "There are some things you will never learn no matter how many books you read or how much research you do. With short films you learn through trial and error. It gives you freedom to make mistakes and of course to showcase your work." A Small Miracle was the story of a young girl caught in the midst of a fictional warzone; 11 minutes in length, it was shot within a day in Colombo.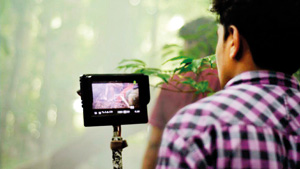 'Wildlings Within' is also of the same feature length, and was shot within one day, on a private plot of land, in the wilds of Attanagalla. "I had a great time writing the story," says the director. "Usually when I'm done with a script, I pitch it to my friends who give me suggestions and poke holes through it." Wildlings Within is incredibly fantastical and involves a fair bit of imagination. "It was a challenge we all welcomed."
The short film stars theatre personality Ruvin De Silva based in Colombo and Yashodha Suriyapperuma. Sachi, on his end, is happy with the result. In the space of 11 minutes he's managed to squeeze in fast paced action, goblins and more importantly- a simple tale of friendship. That coupled with a fantastic score by Ranga Dasanayake has already earned his film a place in the Clujshorts International Short Film Festival. While the Filmbox team is busy with post-production plans for their next feature, 'Wildlings Within' is available for online viewing on YouTube and Vimeo. The film was shot with the assistance of a talented crew including Nuwan Attanayake, Iroshan Kulathunga and Sithira Dias and is dedicated to the memory of Avantha Samarasinghe.