Have bell; no ding dong!
View(s):

The Colombo Stock Exchange (CSE) has got a new bell for 'opening trading' but it won't be rung daily.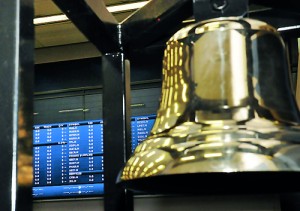 It will be only used on special occasions like new listings or an anniversary event.
While some exchanges like the New York Stock Exchange continue the 'bell-ringing' tradition, this practice at the CSE apparently ended with the introduction of electronic trading many years back.
The new bell was gifted by Bansei Securities of Japan to the CSE and 'rung' on Thursday to coincide with the listing of Bansei Royal Resorts Hikkaduwa on the Diri Savi Board of the CSE. Bansei Securities is a long established Securities Company operating in Japan and has a 39 per cent stake in the hotel.
The CSE said the new bell is part of efforts to attract visitors to the trading floor and revamp the public's perception of the stock exchange.