E-tel adds quad-core N3, at Rs. 21,900
View(s):

Sri Lankan firm Brantel has added the quad-core "Curiosity N3″ smartphone to its locally present E-tel product line, according to a launch announcement by the company.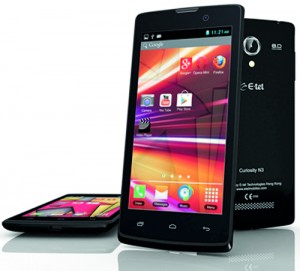 Further, the announcement stated; "The E-tel 'Curiosity N3′ is powered by the latest MediaTeck Superfast 1.3 Ghz Quad-Core Processor and runs on the Android 4.2 Jelly Bean operating system. The sleek and slim dual SIM phone has a standard and a micro SIMport, is HSPA and Wi-Fi/Wi-Fi Hotspot enabled, and has a 4.5-inch 16M colour full touch IPS display. An 8MP auto focus back camera with flash, geo-tagging and face detection and a 2MP front camera make the E-tel Curiosity N3 an ultra-versatile device".
While the announcement signalled that the phone's memory is 4 GB, expandable to 32 GB via microSD, specifications identified on the E-tel's website indicated that the N3′s RAM is 512 MB.
Additionally noted in the announcement; "E-tel phones are designed in Hong Kong and manufactured in three top 10 ranked manufacturing facilities in China that produce branded smartphones for the European and US markets, guaranteeing the same high level of quality, consistency and performance.
One of the key strengths of the E-tel brand has been its ability to offer the latest in technology without the price tag associated with building global brand equity".
Quoted in the announcement, Brantel's Chief Executive, Bishri Latiff, stated; "We expect the Curiosity N3 to make serious waves in the smartphone market. What will make this phone a winner is its amazing price tag of Rs.21,900, offering best-in-class smartphone features, speed and capacity for the price of a high-end feature phone".