Yasiru Hewanadugala first Rahulian to capture 100 wickets
Text and picture by P.D. de Silva
View(s):
16-year-old right-arm-off-spin bowler Yasiru Hewanadugala is the first to capture hundred wickets in a season for Rahula College Matara. Yasiru has eight five wicket hauls to date and match bags of ten on two occasions the best being 12/81 against Tissa Central College Kalutara.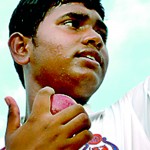 Yasiru captured his hundredth wicket in the first innings of the game against St. Sebastian's College Katuneriya. He has bowled 377 overs with 92 maiden overs and conceded 947 runs for 103 wickets.
Yasiru is also an all rounder is stylish left hand batsman who has a fifty to his credit this season. He learnt his basics from junior coach Indunil Liyanage and is being guided by Rahula College's senior coach Rohana Ariyatilleke now. He captained the under 13 and under 15 teams at Rahula.
Although Yasiru was a member of the Matara District squad for the under 15 Prima Trophy tournament in 2012 he was left out of the playing eleven by district coach Prasanna Galappaththi who believes he has a faulty bowling action. The irony of it is that Yasiru has never been called for chucking by an umpire in the past.