Then came this rural cricket episode
Do you really have to pay money to the school to play cricket?
View(s):
I wondered it was just hurt; frustration or hope that espoused through his facial expression, though the little guy still had not uttered a word. He just sat there in the summer house of my friend's bungalow down south in Bentota, when I walked to the place heeding my friend's request.
The story of little Sanjeewa (I just decided to change the boy's name thinking just in case he one day rockets into stardom) is heart-rending.
His mother, Indrani lost her husband six years ago. She now supports the family working as a domestic at bungalows in the neighbourhood. Besides Sanjeewa, Indrani also has another daughter who is suffering from an ailment, for which the little child is under regular medication.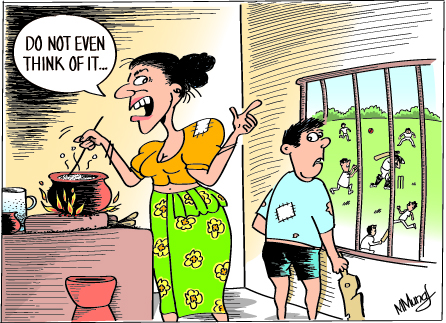 However, at 14 plus, Sanjeewa who is the beacon of hope in the family, is a talented cricketer playing in the school junior team. Yet, various financial demands for him to be in the game was just too much for Indrani and she had just asked Sanjeewa to engage in some other past time or vocation to keep him busy — she simply could not find money for Sanjeewa's cricket.
One-day while preparing the mid-day meal, Indrani just happened to mention her plight to the lady of the house and she got interested and involved in the episode.
The expat couple decided to act upon the issue immediately, but did not know how they could expedite the matter in a meaningful manner.
That is the point that my friend and I who were their guests there got involved in the act. We asked Sanjeewa how we could be of help to him and how much he had to spend for him to play junior cricket for his school. His explanation just opened the doors to a dark alley and stark cricket reality.
Sanjeewa explained: "Last year also, I played in the under 15 team, but this time because we can't afford it, I have decided to stop playing cricket, but the master-in-charge asked me to continue playing and that he would overlook the practice money".
I just could not comprehend — paying money to attend practices. So I asked the little guy to explain it. He replied: "To attend practice, we have to pay five hundred rupees a month. Then when we play matches, we are asked to pay for the umpires' fees and some other expenses. Mostly if there is a match outside our school then there are more expenses like the transport cost and other expenses".
For the two of us who have represented our alma maters, Ananda and Trinity, it was incomprehensible. However, we convinced the little lad that what our friend was doing was not a hand out but, an investment on Sanjeewa's own future and he should take with the same seriousness while continuing his cricket from this point.
With a fulfilled dream and a new ego, the next day Sanjeewa was back at practices. Then last Sunday, when the few of us met up again, my friend from down south was elated. He said, "In no time Sanjeewa has been included in the school's first XI team and he has played a match and taken some wickets too".
In fact during our discussion, Sanjeewa revealed that he was not the only one who was finding it difficult to continue cricket. There were several other students who were just managing to play the game, but were on the border of leaving it forever.
I just came to terms with the stark truth. For a talented young lad from the outskirts – taking part in a sport meaningfully means his future. Good in sports means secure employment, be it the forces, private sector or even national colours. They have seen the Lasith Malingas and Nuwan Pradeeps beginning their careers at a very rural level and reaching heights that could only be dreamt of. As a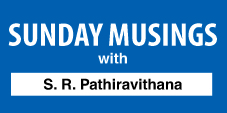 result, dreams of this nature are instilled in little minds like Sanjeewa's. Those are hard to erase. They know if they strike the right chord, their lives will never be the same again.
I have heard Sports Minister Mahindananda Aluthgamage and cricket board secretary Nishantha Ranatunga shouting their throats dry screaming about taking the sport to the village. But, are they aware of the stark reality?
I just delved into the matter to gather some information. Sanjeewa's school was not the only school that was facing that plight.
Ironically barring the few most affluent schools like Ananda, Nalanda, Royal, S. Thomas', St. Peter's, St. Josephs. St. Benedict's, Trinity and St. Anthony's, others cannot afford to let their students indulge in cricket on the house. Almost the rest of the brood has to pay to be in the game and matters get worse as things go interior. Then who foots the bill — the parents if they could afford it or not.
Sri Lanka Cricket takes pride in handing out cricket gear to rural schools in a bid to introduce the game in rural areas. Prior to handing over the equipment, do they find out if the school could really sustain itself in cricket? Do the parents of those schools have the wherewithal to let their children play cricket? Unlike many other sports, cricket is an expensive sport.
At the same time, is the Education Department aware of this situation? Has the department authorised the school authorities to charge money from students taking part in a sport. If they have done so has it been formalised so that it is the same for every student who plays cricket in any part of the country. However as far as we know, there are strict instructions to all schools that they cannot charge money from students under any guise without the approval of the Ministry of Education.
Besides, cannot the Education Department recruit former cricketers when they are employing various sports officers and place them in schools where cricket is prevalent so that the school will have a qualified coach? Certainly Sri Lanka Cricket could train them to be qualified coaches.
I have heard of incidents where cricket equipment was given to schools and then school taking up the game, but, only to give up forever once the equipment is worn out. Sri Lanka Cricket is running round the island putting up concrete wickets. What happens – job is given over to an end-of-the-year AGM voter from the District Cricket Association. He keeps his cut and gets a mason baas from the area to do the job.
How many non-essential persons travel overseas when a national team of any given age group is on tour? Besides how many executive committee members of Sri Lanka Cricket are seen on the television screen enjoying a 'cuppa' while the Lankan national team is engaged in a cricket series overseas. All of them are given a per diem of US$ 350. Can't they stay at home and can't Sri Lanka Cricket divert that money towards the sustenance of the game in rural schools? In this manner they may be able to discover a few more Malingas.
If one cares and delves into this sad episode there would be many more stories that would finally end up as a huge book.
Before they start fighting for justice in global cricket they first should have fought this injustice and put it right. If not, whatever they do becomes a laughable past time.