Motorcyclist penalised
View(s):

Motorcyclist penalised

Perhaps this has happened for the first time in a cycle race. The race was for a distance of 550 km and was held for four days. One helper on a motorcycle who had been of assistance to a competitor has been reprimanded. But, simply he had not taken part in the race has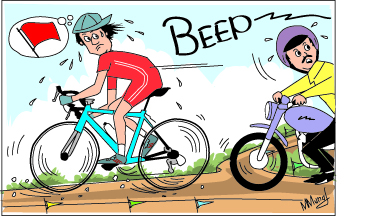 been penalised by the organisers.
The mother tongue
Almost six years ago in 2008, an Austrian coach conducted a examination for riders. Twenty one sat for the exam and all of them passed. Now after six years later, the results of this coaching class have been declared null and void. It has been revealed that one candidate who obtained 11 marks out of 100 had also passed! Officials had contacted the foreign coach and had inquired why the results had been so poor. Those who sat for the exam were very poor in English and the tests were conducted in Sinhalese, claimed the coach. Does this mean that even the mother tongues of these candidates are also not up to the mark and was that also a qualification?
Forged signature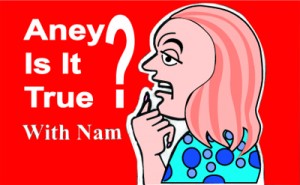 It has been brought to light that a person had allegedly forged the signature of a player in a sport which is very popular in the country. This person is a former executive member of the sport and the higher ups in the sport are wondering how he could have got into this august body and caused a slur of this nature as it is causing quite a buzz in sporting circles.
Ane mage nona mata
gamata yanna ona
Over to the Oval House. A foreign based Sri Lankan had been recruited by the Oval House to attend to some of their overseas matters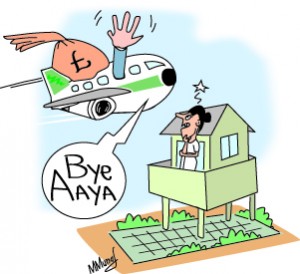 and it so happens that he was paid in British Pounds as well. He was obviously paid a handsome amount. But suddenly he had to leave the country. Now the Ayamma (House Maid) who had worked at his posh house in Nugegoda claims that she had not been paid for the past four months! When questioned why she did not ask the money from her boss, she claims that she had asked him for payment and he had promised that he will see that she is compensated. Four months have elapsed… still no sign of the boss or the money!
Home and home match
Still in the same sport there is a tour committee whose job is to see that they conduct tours which could bring a profitable income to the sport concerned. However it is sad to note that this committee has so far conducted six tours and none of them had raised any worthwhile income to the sport. It has also been noted that a match was played in Hambantota and since a local team could not be raised for the game, the visitors (they happen to be from the country where Kabul is the capital city), had played a match amongst themselves. What fun!