Happy Birthday TinTin !
By Yasasmin Kaviratne
View(s):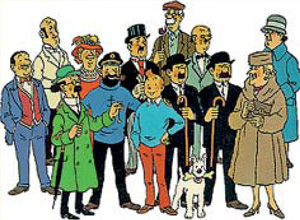 There's no way one can be assured that he has been around for 85 years, but he truly has! TinTin  celebrated his 85th  birthday on January 10 this year, being loved for more than eight decades by kids and adults alike. Have you ever tried guessing his age? Well, he may look barely fifteen in appearance but he should be older. Wonder whether anyone asked Hergé the actual age of the hero of his great work?
There are billions of blue blistering reasons to love TinTin; the dog (Snowy), and quick tempered, alcoholic Haddock, the deaf, absent-minded Professor Calculus, detectives Thomson and Thompson, they all make a perfect mismatched team. But the adventures TinTin has, all over the world, by road, sea and air are mind-blowing. Also, once you start reading the books you see he can drive; cars, motorbikes, tanks, helicopters AND planes! You name it, he drives it!
Intelligent, and adorable, TinTin and Snowy, with or without the others, going on adventures that we all dream about as kids, solving crimes and rescuing the innocent (that includes Snowy rescuing TinTin as well), is enough to keep the reader of any age interested. He even steps on the moon, an amazing plot with scientific accuracy, especially remarkable as TinTin's adventure to the moon was published 15 years before
people actually walked on the moon!
On the other hand, it took almost 83 years for 'The Adventures of TinTin' to be reproduced as a movie. May be it's not that surprising considering the negative criticism that was directed at the movie from all quarters. It proved one thing; that TinTin has a strong hold of the readers' hearts and they would not like it being reproduced in any way that would undermine, let alone tarnish, that image.
However, reading TinTin as a late teenager is a completely different experience as traces of contemporary politics are found in the plots. 'TinTin in the Land of the Soviets' was clearly crafted to carry out anti-Soviet propaganda. TinTin's trip to Belgian Congo has so much of a racist touch to it that even recently attempts were made to ban the book in Belgium.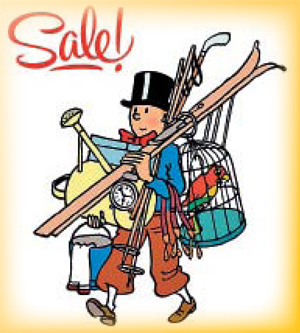 Other than the adventures, the books don't contain much about TinTin's personal life. TinTin is always depicted as a mysterious young man. Also, he never falls in love, making the story appealing to children, but omance is not completely drained out from the books. Who can forget the sudden thundering appearances of Bianca Castafiore.
This lack of a personal touch to the character of TinTin makes him favoured universally. Other than the fact that he is a male and a journalist and owns a dog, the reader doesn't know much about him; who his parents are, whether they are alive, does he have siblings, none of this information is given anywhere in the book. Though at the beginning he lives in his own apartment, later he moves into Marlinspike Hall which belongs to Captain Haddock.
Further, the entire series goes on with a touch of ridicule around rich Haddock but a flavour of sincerity and innocence towards the not-so-well-to-do
Chang, but both being much loved, close friends of TinTin. Therefore, people of all levels can relate to TinTin in a very intimate way and enjoy his
adventures.
Finally, with each victory of TinTin at the end of each book, the message every child gets is that there's good and bad in the world but people who do good and fight to protect the good will be loved. And also, they win at the end of the book! Always!