Something is rotten in the state of Sri Lanka – our food
By Nadia Fazlulhaq
Raids uncover mountains of spoiled items we would have been tricked into buying
View(s):
Another week of raids, and this time the Consumer Affairs Authority seized thousands of kilos of date expired sugar, Basmati rice and dried sprats valued at millions of rupees on sale to unsuspecting families, caterers and reputed firms serving locals and overseas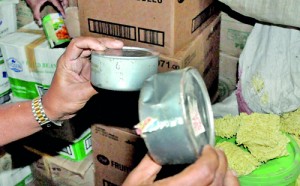 visitors.
Contaminated food can cause food poisoning and even cancers, Deputy Director General (Public Health) Dr. Sarath Amunugama warned. Health inspectors have embarked on a campaign to raise public awareness about the dangers of eating spoiled food.
The CAA last year conducted 38,000 raids and collected Rs.125 million in fines, Chairman Rumy Marzook said.
"We have instructed all the outstation CAA units to carry out inspections with the support of local health authorities. There is a possibility of these stocks entering retail markets, caterers and hotels," he said.
On Tuesday, a stock of about 21,000kg of Basmati rice, past expiry date and infested with weevils, was seized by a CAA special investigations unit at a warehouse in Wattala.
The owner of the warehouse, who provides rice to a number of leading firms, had stocked expired items worth Rs. 4 million to be re-packed for sale with a new expiry date of 2015.
A similar raid took place on a Mutwal processing centre where CAA officials found 100,000kg of date expired sugar awaiting release to the market, expected to fetch about Rs. 10 million.
On Wednesday, the CAA seized 47,000kg of expired dried sprats at a warehouse in Elakanda, Wattala. The fungi-infested sprats were to be cleaned, repacked and released to the market for some Rs. 30 million.
A senior officer attached to the CAA said the raids on warehouses would continue and that retail shops would also face inspections.
"Retail shop owners should be cautious when purchasing items at low prices. The fine may go up to Rs.100,000 for stocking for sale date expired items," he said.
He said the CAA was investigating claims that small white broiler eggs were being spray-painted and sold as farm eggs.
Public Health Inspectors (PHI) too have begun raiding warehouses and shops for date expired goods, said Public Health Inspectors Union Secretary Senarath Bandara.
PHIs in the Homagama division raided a co-operative store on High Level Road and found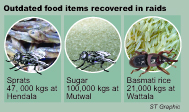 numerous products past expiry date including 20kg of canned fish, four cartons of biscuits, 57 milk packets, 13 bottles of fruit juice and packeted tea. They also seized 200kg of date expired frozen chicken at another shop.
On Christmas Eve, the CAA seized over 4,000kg of dried fish unfit for human consumption. The same warehouse contained about 3,000kg of rotten onions. The same week, Dambulla police raided a warehouse containing 5,000kg of rotten potatoes.
The Colombo Municipal Council officials too recovered about 3,000 cans of baked beans, about 400 bottles of mayonnaise, 900kg of noodles and a number of date expired imported goods from a warehouse in Pettah.