Panic as peacocks hit plane at MRIA
View(s):

A Dubai-based budget airline was forced to make an emergency landing after a flock of peacocks collided head on with it during take-off from the Mattala Rajapaksa International Airport (MRIA) early yesterday, officials said. They said the scheduled Fly Dubai flight with 188 passengers and crew had arrived from the Bandaranaike International Airport (BIA) earlier in the day and was en route to the United Arab Emirates (UAE) when the incident took place.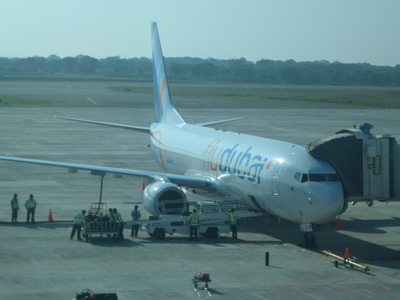 According to the officials no one was hurt but the incident caused panic among the passengers that included a large number of foreign visitors. They said the plane had developed some technical problems and they were being attended to with assistance from engineers and technicians flown in to Mattala from the BIA.
The officials said the passengers were taken to hotels in the area and the plane would probably take off around midnight yesterday.
This is the third such incident involving birds in flight and commercial planes since the MRIA was opened in March 2013. Earlier, as a preventive measure, the authorities sought to cover up the water holes in and around the MRIA, to keep the birds and other wild life away from the airport area.In addition search teams armed with flares and stun guns also patrol the runway before and after the arrival of a plane in a bid to scare away birds that could interfere with the flight path.
According to reports last week, hundreds of frightened peacocks had flocked to the main Hambantota town and the surrounding areas because of the roar of the jet at the MRIA. Environmentalists and experts have repeatedly cautioned that the birds and the wild life in the area posed a serious threat to air traffic and urged the authorities to take necessary action.
The dozens of water holes in and around the area are traditional nestling locations for hundreds of thousands of migrant birds.