One was quite enough — sub-cyclone storm lashes north
By Nadia Fazlulhaq
View(s):
Tropical cyclone/storm "One", forecast to hit the country with punishing force last week, made its landfall more leniently although bringing strong winds and heavy showers to the north.
Given the recent cyclone and deep depression conditions in the southwest Bay of Bengal, meteorological and disaster management authorities are making detailed preparations for disaster prevention this year while advising the public to be vigilant.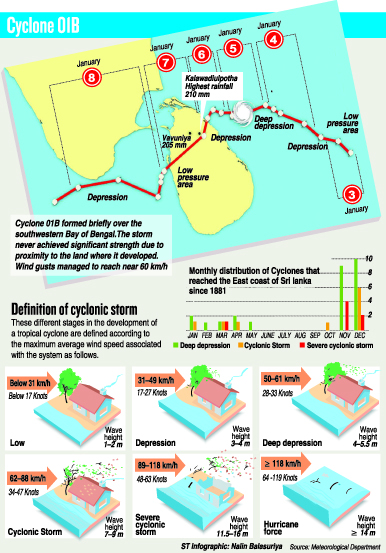 Meteorology Department Director (Forecasting) S.R. Jayasekara said that last week's storm passed by the country as a deep depression condition. If it had developed into a cyclone there was a name offered by Myanmar ready and waiting for it: "Nanauk".
The storm intensified on Sunday, January 4 as depression conditions deepened 200km east of Trincomalee. The Joint Typhoon Warning Centre (JTWC), a joint United States Navy-Air Force task force, contacted Sri Lanka to say the storm would hit Jaffna peninsula with gale-force winds.
Meteorology Department forecasted wind speed of 100kph, and disaster management units started evacuating people living in coastal areas.
Two days later, on Monday (January 6), Vavuniya received 205mm rainfall and Kalavadi-Ulpatha was bucketed with 210mm. Widespread areas in the north, east and north central areas as well as Mannar and Puttalam experienced about 100mm rainfall driven by wind speeds averaging 70km.
"We immediately made arrangements to evacuate people, especially those in coastal areas in Mannar, Mullaitivu, Trincomalee and Jaffna. Families living within 100m of the ocean were immediately evacuated inland and shelters were provided. In flood-prone areas, people were taken to schools and temples in higher areas," said Disaster Management Ministry spokesman Sarath Lal Kumara.
With Meteorology Department warnings that waves could reach heights of 3m, people were asked to remove their boats, vehicles and other valuables to safe areas.
"As this was forecasted within an hour evacuations were done. But in emergency situations evacuations will take place within a time-span of 10 minutes. Special teams are already formed in districts, with disaster management units, local government officials, military forces and police. About 80 per cent of the country's coastal areas have been made aware of disaster preparedness arrangements," he said.
Mr. Kumara said two Australians on a sailboat off Mullaitivu had been rescued by an army team after strong winds had forced their boat into deep seas.
Authorities say those living in coastal areas including in beachside hotels and resorts should have emergency kits available and notices to tourists should be posted on possible extreme weather conditions.
Emergency kits should include bottled water, blankets, first aid kit, dry rations such as biscuits and canned food, battery operated radio, torch and batteries or lantern with match boxes in waterproof sachets.
If a cyclonic or storm condition is nearing your town, it is important to switch off all electrical objects and remain indoors in a safe place, Mr. Jayasekara said. If driving at the time, stop the vehicle away from the ocean, trees and electric wires
Last year, the northern Indian Ocean saw cyclones Mahasen, Phailin, Helen, Lehar and Madi and about five depression conditions. Also, 51 fishermen died at sea last June due to a severe storm in southern seas. The Mahasen and Madi cyclones and a numberof depression and low pressure conditions brought particularly heavy rain to Sri Lanka.
About 80 tropical cyclones develop over the globe annually and close to 10 are reported from the North Indian Ocean. The months carrying the heaviest risk of cyclones and severe storms in Sri Lanka are October to January and May to June for northern areas and from November to April in the south.