Blood on the factory floor – industrial accidents soar
By Chathuri Dissanyake and Reka Tharangani Fonseka
Surgeon tells of garment workers with hair torn out by machines
View(s):
Carpenter P. Somasiri suffered horrendous injuries when he fell onto an industrial saw in the small carpentry workshop he works at in Hibutana, Mulleriyawa and had to undergo complicated reconstructive surgery to reattach his severed hands. A few months earlier he had suffered serious gashes while working and been rushed to hospital.
Somasiri has returned to work at the carpentry shop after his operation despite objections from his children; he needs to provide for his family. His employer does not appear to have taken precautionary measures to provide a secure working environment after the accident.
Dr. Dulip Perera, head of plastic surgery at the National Hospital, is concerned at the rising number of workplace accidents.
The accidents are widespread, he said. Women working in garment factories were prime victims.
"Most often, female workers working near Juki machines do not wear necessary head-covers and their hair gets entangled in the machines, and often this results in the skin being torn as well," Dr. Perera explained. He added that often the machine parts installed to protect operators from injury were removed in many workplaces.
Dr. Perera warned there would be high rates of disability from injuries if action was not taken immediately on developing and enforcing safety regulations.
He said 10 to 20 patients were brought to the hospital daily with workplace injuries, the majority of them labourers who do not pay attention to safety while engaged in their job.
The International Labour Organisation (ILO) says Sri Lanka records around 4,000 workplace accidents a year and that an estimated 600,000 workdays are lost due to accidents annually. Most accidents occur in the construction and garment industries.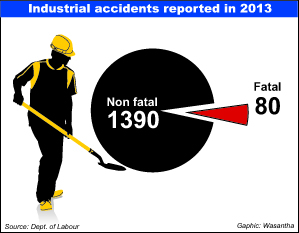 Last year, 80 fatal accidents were reported while 1,390 cases of non-fatal industrial accidents were recorded by the Department of Labour. Most of non-fatal accidents recorded were from factories. Details of accidents that occur in construction sites were obtained from police and newspapers.
Falling from heights, electrocution, and accidents related to negligent handling of high-risk machinery were the most common types of accidents.
Dr. Perera asserts that rigorous safety regulations are lacking in Sri Lanka, but the Commissioner of Labour – Industrial Safety Division, W.L.S. Wijesundara, says regulations exist and that the department carries out regular inspections of factories and industrial workplaces.
"If we find offenders we first advise them, as often the neglect is due to ignorance," Mrs Wijesundara said.
"If the matter is not rectified we issue warning letters and finally take legal action."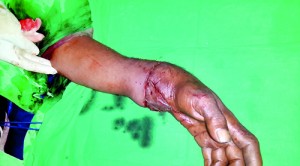 The department carries out awareness programmes in different locations to inform the public of safe practices in workplaces. Last year, almost 230 awareness programmes were conducted throughout the island. The department lacked funding to carry out large-scale, media-driven campaigns, the commissioner said.
The department is severely handicapped by lack of sufficient staff to carry out necessary inspections and raids. The Industrial Safety Division in Colombo has only 30 engineers and only one engineer is available in each provincial branch of the Labour Department to carry out inspections.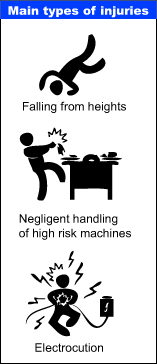 Mrs. Wjesundara admitted that relevant staffing levels have not increased over the past 30 years but said the department had proposed structural changes and the recruitment of more engineers to the Industrial Safety Division under a new labour policy now in the final stage of preparation.
The department faces tough challenges in regulating industrial safety due to non-reporting of accidents.
"While accidents in industrial workplaces, especially garment factories, are reported to us directly as per regulations, we do not receive information on accidents that happens if construction sites," Mrs. Wjesundara said.
She said most accidents happen at construction sites, and the department receives information only through third parties such as police or hospitals, and that too only if the accident is fatal.
"The temporary nature of the industry makes it difficult to ensure proper standards are adhered to, she said. Most accidents at construction sites occur when work is given out on subcontracts. Most subcontractors do not adopt safety standards as they are unaware of them," the commissioner said.