The dearth of tennis players in every age group, is a matter of concern
Interviews by David Stephens and Naushad Amit and pix by Amila Gamage
Sri Lanka's tennis hosts a pantheon of fine athletes and fiery competitors who have struck with equal effectiveness both on home and foreign soil over the distant and recent past. In this month's segment of From the Members' Enclosure we assess the sport's current standing and plans for future development through the views of some of its central figures.
View(s):
Thangarajah Dineshkanthan (Sri Lanka national tennis champion)
In terms of talent we have very good players with a lot of potential. The thing is that the number of players is lacking. In every age group we have three or four players and not many other players competing at that level. There are very good players at the top and then there is a very big gap between them and the other players in the division. So the number of players playing the game can be better compared with other countries.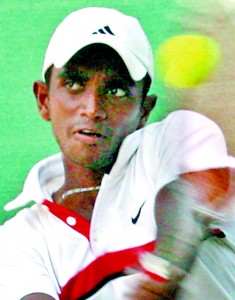 I have been part of the Davis Cup team since 2010 and since then it's been me, Rajeev (Rajapakse) and Harshana (Godamanne). When I first got into the team I was not a playing member but I was able to work myself upwards and contribute to the Davis Cup team by winning my matches. So we are moving to a point where there is a contribution from all the players rather than depending entirely on Harshana because it's a team event although we play individually, so everyone has to contribute. So I feel gradually we are beginning to do this.
For a country like Sri Lanka, the main challenge for a player is the financial burden since the competition level in the country is not upto the mark, There are very few players and they know each other's game in and out so when they keep playing each other sometimes they know exactly what to do. So just to get competition we need to go out of the country and going out of the country is always expensive. And because of that I believe that finance is one major drawback in the game. And again I believe proper programmes to make professional players need to be created. I am not saying we don't have them or that these ones are not good but they can be better, especially compared with the programmes of other countries I have been to. But I think that our coaches will eventually bring us to that mark. I also think we need more tournaments. I play maybe a maximum of like eight tournaments a year, which is very low compared to other countries. Some other countries, they play tournaments every week so that's like 50 tournaments a year. So the number of tournaments can be increased for sure. To do so we need to increase the number of players playing. This will happen automatically when we increase the number of tournaments we have.
With regards to international experience, circuit-wise we have the junior circuit and the professional circuit. Sri Lanka is only conducting two junior circuit events for the whole year and no professional circuit events at all. If you take India, it has about 15 to 20 professional circuit tournaments and about 20 junior circuit tournaments every year so the players in India don't have to travel the world because locally they have all these tournaments. Since the SLTA has facilities, like enough courts, I think they should bring at least three professional circuit tournaments a year so that the local players will benefit and they don't have to travel outside the country to take part in these tournaments.
I recommend whoever who is doing well in the junior circuit to try the senior circuit for two or three years, because one breakthrough here or there will take you to another level. So three years together with your studies to keep trying the senior circuit and if you breakthrough you can have a good way up the rankings and when you go up the rankings you may start to get a life off tennis.
Iqbal bin Issack (President of the Sri Lanka Tennis Association)
Where tennis in general and development matters are concerned we are doing quite well. Our players are also doing fairly well and playing good tennis. We have been in the Davis Cup Division Two for the last three years consecutively. This year we are playing with the Philippines, one of the best teams, and we feel we have a 50-50 chance of winning this time so we are going all out to see what could be done with the coaching and the training and our boys are going to Thailand for two weeks' training with one of our coaches. And then they are coming back on the 18th and then they will go through another two weeks' training. So all preparations are being done and if luck is on our side we might even have a chance of reaching Division One. Already selection has been done; we had some trial matches and most of our players have being playing abroad.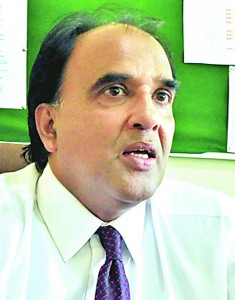 We have a lot of development programmes in the country right now, in Jaffna and Batticaloa, Ratnapura, Kurunegala, Negombo, Bandarawela, Nuwara Eliya. So like that we have a lot of training programmes right around the island and hopefully we are looking to start in Anuradhapura and Puttalam very soon. We had the Under 10s tournament and we had over 800 students taking part all from the outstations. We have courts and clubs in those areas which are being used for development. We also have a development officer who goes and talks to the schools and gets them to come and play tennis. So the game at the grassroots level is progressing. When they reach a certain standard what happens is we do sponsorship for all the children who have reached this standard. Sometimes racquets are being given to them, balls and even the clothing to a certain extent when some of these players have been sponsored, all those things are provided. And we are starting a new system where all the first-ranked players in each group will be sponsored by one person, a company or something like that, so based on that we have done quite well. Sometime back people used to say that tennis was a rich man's sport but today our number one, number two and number three are all poor kids and doing well, taking part in lots of tournaments outside of the country. We also have our coaching programmes going on here and a lot of development happening at the association itself. We have just finished three hard courts and that has cost us about 8-odd million. So considering all those developments, without funds, I would say that we are doing quite well.
The problems we face are first and foremost related to our financing. We need more sponsorship. But little by little things are changing. We had lot of problems with the municipality and we are sorting out all those things. Then we had a nice restaurant put up here because now if anyone comes here, being the national body, we can entertain them. So there are a lot of developments happening here.
For this year we have 25 tournaments, out of which 16 are ranking tournaments, 8 international tournaments, 3 wheelchair tournaments and we have 80 to 90 foreigners taking part in the junior international tournaments so it's a full calendar. We are finding it difficult to have more tournaments because it is jam-packed.
Sankha Athukorale (Former Davis Cup player and current senior circuit player and coach)
The juniors are really improving and coming up. But the seniors need more attention because we need to be taken care of by the SLTA especially financially. Otherwise it's really tough to do this sport and our seniors won't play. In terms of our Davis Cup, things are getting better. We have Harshana and Rajeev still there and now Dinesh and Sharmal are playing well so things are looking good.
As coaches we need to get more exposed because staying here we don't get anything, and we can't try something new, so we just do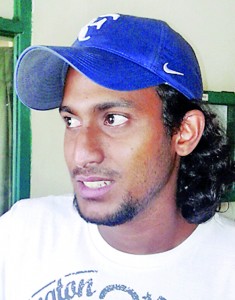 what we know. We are also still learning so we have to go out or someone has to come here to teach us what to do because there are so many new techniques and methods that we don't know about. Again it comes down to money, you need money to go abroad, and if there are no funds, it's tough to go outside. Kids have to go to other countries to play and get more experience because otherwise they will only play in Sri Lanka and they know each other's games but when they play in an international match they find it tough to perform. So they need to go out and get more experience.
As a senior player you need to invest a lot of cash. First you need to do proper training and that's tough to do here. You need conditioning, physical training, mental training plus tennis. Say you do that properly for one year, the next year you have to go around the world and you have to start playing tournaments. Even to move around in Asia and play matches you need a ticket, you need accommodation and everything so it's quite tough.
For example in the Thailand Davis Cup team, all four players are sponsored by many companies, and the coach and the physical trainer. So they get to go to more countries because of this sponsorship. But still, without all this, we are managing to play well against these countries.
Tennis is an expensive game and it's tough. In Sri Lanka you will spend about Rs. 100,000 a month on average for training that isn't high-level, just to get a coach and hit with someone. But if you go out of Sri Lanka it's like 700 to 750 dollars a week.
We have enough and more tennis courts in Sri Lanka but the thing is we have to know how to use them. Those days, when I used to play from 2 p.m to 6 p.m I couldn't even think of coming to get a court but now people can just call and get one. WAe need more players and need to do a better job with them.
There is a point in continuing with a tennis career after you're 18 if you do it properly. If after 18 you just want to keep playing for fun then there is no point. You need to have full commitment, 100 per cent, just tennis, tennis, tennis, 3 hours in the morning, 3 hours in the evening and then go to the gym. That's the package. You have to work hard, otherwise there is no point. It's a very tough game, You take a racquet and hit with it and you find that out. It's tough to do it. You take a badminton racquet and you hit with it and you can do it. But in tennis, it's so hard to just control the ball. It's not something natural or easy.
Aasiri Iddamalgoda (SLTA Chairman of Selection Committee)
When I started it was the early 1980s, the difference between then and now is big. In the 1980s the Sri Lanka Tennis Association (SLTA) played a huge role in player development. Unlike now where there are academies and other nurturing centers in Sri Lanka, the SLTA took a grunt of training all national players. During my playing days all national squad players were practicing together under the SLTA programme. SLTA had a system for all seven days the week where anyone could practice and a national coach was available during that time. It brought all national players from all parts of the country to one place for practices.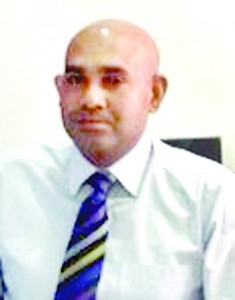 But now top players dispersed into separate academies and they are not getting the amount of tennis, they should get. Academies are not bad but since they charge by hours, it all has become money-related. During our days, we paid a monthly fee and we could play at our convenience. In addition the SLTA had a programme of providing free practicing and playing facilities to its national players. I was also brought up during that era, when your potential was given a true welcome.
Tennis played by the top players is not enough. If you look at other countries a good player spends over 18 hours playing per week. This is not happening with our top players. The reasons behind them are simple: we don't have the perfect infrastructure as academies are run by two or three courts whilst they have over 50 players in it. So it creates a great demand among the players for playtime. This is a major issue.
Since for the past couple of years the participation and the quality of club tennis has reduced. Then Kandy was a major force as a good feeder to the national stream, so was Jaffna and Galle. But it has all changed today. The SLTA during the last couple of years have come out with comprehensive plans for the juniors, which is good. I see that there is lot of potential in junior tennis but I haven't seen the sustainability in quality. When an Under-10 player reaches the Under-18 age group he is not the same as used to be. Sometimes players have given up the sport due to various reasons. Primarily tennis is an expensive sport; it's not easy for a parent to support. For me my father and sister were tennis players and this prompted me into it. I personally had no trouble because our family was engaged in tennis already. Then I went through the SLTA channel before reaching the top. At the same time the schools structure is also equally important. But unfortunately the inter-school tournament cannot be called a viable one. It's because none of them are products of those respective schools. For example, the top players are produced by outside academies or the SLTA. According to my observation, the only school that has a development programme for tennis is St. Peter's College Colombo. They focus on development, the pick players from outside, give them scholarships and spend relatively a good amount for the sport. Dinesh Karthik is one good example. Besides that I don't think any of the other schools are not the same, because the parents play a bigger role at other schools.
If I focus on the previous 30 years of tennis or Davis Cup of Sri Lanka, I think the SLTA's focus has been very much similar. We can do better but it all depends on the amount of money the SLTA has in possession. The earlier system of SLTA in brining all national players into one court or place is not viable anymore because of many reasons. The focus of SLTA certainly has not diminished but certainly it can improve from what it is now.
SLTA is not an association that makes big money. It makes a certain amount per year but whatever the circumstances it supports the national structure such as the junior teams and the Davis Cup teams to go abroad and even to host the Davis Cup here in Sri Lanka. Sometimes to do all these, the amount given by the International Tennis Federation is insufficient and the SLTA has to finance, sometimes, a major portion. The SLTA is balanced in their books but we have to be like India, who followed a comprehensive programme to promote the sport and players alike to the global arena.
I think we should give our players more exposure and the improved quantity of quality international tournaments will make the much needed difference. We need good establishments from the corporate sector to come forward and sponsor the sport as happening in India. In India establishments employ potential players and are given the much needed support to them with all facilities up to a certain level. The progress beyond depends on the development of the individual. This system is in existence in India for the past 15 years or more and today they are enjoying the dividends.
We have to be practical if we the SLTA are to deploy a comprehensive marketing strategy. It will definitely help tennis but the problem is if the SLTA is in a strong position to employ personals at an era where all are being run by officials who are working on honorary basis. The set of officials too keeps changing, though it's not the most preferred thing. It's very easy to say what needs to be done for development but I know it's not an easy task as it appears. The SLTA administration is trying its best. They are doing a fine job but there is more room to improve.