Raveen, Osura guides DSS to first win
By M. Shamil Amit
Under 19 Cricket
View(s):
The left and right arm spin combination of Raveen de Silva and Osura Bulathsinhala guided D.S. Senanayake College to record their first outright win of the ongoing Under 19 inter-school cricket season helping the side to coast to convincing nine wicket win over Prince of Wales in the match concluded at Wijerama Mawatha yesterday.
The pair shared seven wickets between them as they wrecked the Prince of Wales batting the second time with a deficit of 123 runs to bowl them out for 134.
The writing on the wall was there for Prince of Wales when play ended on day one after being bowled out for a meager 83 and the home team ending the day with a score of 187 for 8 in the process conceding a 104 runs lead.
The second day's proceedings saw DSS resuming on their overnight score going on to add a further 18 runs to end their innings on 208 with Uvin Bandara making a top score of 58.
Prince of Wales batting the second time found the two spinners Raveen and Osura too hot to handle and were in dire straits just before the tea break with the score on 93 for 7 before they recovered to avoid an innings defeat making 134. This left DSS just ten runs for victory which they achieved with the minimum of fuss.
Maris Stella Negombo secured a seven wicket win over President's College Rajagirya in the match which ended at Negombo. Maris Stella having dominated the first day's play and taken a first inning lead kept up their momentum on the second day too.
The second day's play saw President's Rajagiriya batting the second time failing to come into terms with Basura Swaris who ended with impressive figures of 6 for 41 and folded up for 150.
Maris Stella set a target of 108 runs for victory was steered by Niroshan de Silva and Prasansana Jayamanne who together was involved in an unbroken 54 runs stand for the fourth wicket helping them to victory.
S. Thomas' had to be satisfied with a first inning win over St Benedict's in the match concluded at Mt Lavinia. S. Thomas' in reply to St. Benedict's score of 140 resuming on their overnight score of 120 for 5 went on to make a score of 165 for 9 declared.
A knock of 95 inclusive of 19 boundaries by Sangeeth Cooray helped St Sebastian's to register a first inning win over St. Joseph's at Darley Road. St. Sebastian's resuming on their overnight score of 95 for 5 made 254 in reply to the home team's 210.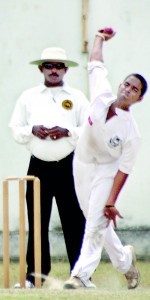 Zahira too recorded a close first inning win over Lumbini MV in the match played at Maradana. Zahira guided by a 77 ball knock of 96 with 12 boundaries and four sixes by Nikzy Ahamed made 239 and restricted Lumbini MV to a score of 232.
The match between Royal and St. Anthony's Katugastota played at Reid Avenue ended in a draw with Royal taking first lease of the wicket making 196 and the Antonians 201.
In the other matches played Sri Dharmaloka MV Kelaniya and Sri Devananda MV Ambalangoda registered first inning wins over Sri Sumangala Panadura and Taxila Central Horana while Raddoluwa MV was on top against St. Mary's Kegalle on day one in the match played at Raddoluwa.
At Wijerama Mawatha: DSS beat Prince of Wales by 9 wickets
Prince of Wales 83 (Krishen Aponso 27, Jayanga Peiris 17: Thimila Vidyasekera 4 for 28, Raveen de Silva 2 for 4, Duleeka Brahmanage 2 for 2 for 22) and 134 (Gayan Chamara 32, Shanuka Dulaj 28, Jayanga Peiris 23: Raveen de Silva 4 for 13, Osura Bulathsinhala 3 for 37)
DSS (187/8 overnight) 208 (Uvin Bandara 58, Duleeka Brahmanage 24, Shifran Muthalif 22, Kavin Bandara 20, Udesh Sendanayake 23 n.o.: Shanuka Dulaj 3 for 18, Sachin Pushpakumara 3 for 65, Thilina Nimesh 2 for 32) and 10 for 1
At Negombo: Maris Stella beat President's by 7 wickets
President's Rajagiriya 147 (Disala Weeratunge 40, Lahiru Moses 22, Malsha Jayawardena 21, Kanishka Perera 18: Sachindu Maduwantha 4 for 22) and 150 (Navod Kalansuriya 37, Mohamed Halan 35, Yasath Dewage 24: Basura Swaris 6 for 41, Sachinda Maduwantha 2 for 29)
Maris Stella 190 (Jayamal Rajapakse 66, Kumara Silva 50, Shehan Chathuranga 23: Mohamed Halan 4 for 72) and 110 for 3 (Vihanga Ravishanka 18, Niroshan de Silva 38 n.o., Prasansana Jayamanne 21 n.o.: Chandeepa Wimalaweera 2 for 53)
At Mt Lavinia: Match drawn
St Benedict's 140 (Sithum Wijesinghe 54, Geethika Jayatileke 34, Thulina Dilshan 19: Helakamal Nanayakkara 5 for 26, Aftab Cader 2 for 25, Sahan Wijesinghe 2 for 36) and 206 for 7 (Sithum Wijesinghe 49, Shiran Ratnayake 45, Mahel Jayalath 16, Yohan Soyza 51 n.o.: Sahan Wijesinghe 2 for 32, Ravindu Tilekeratne 2 for 57)
S. Thomas' (120/5 overnight) 165 for 9 declared (Madushan Ravichandrakumar 47, Dulanja Silva 30, Sachitha Jayatileke 24, Tharindu Ratnayake 21, Helakamal Nanayakkara 25 n.o.: Geethika Jayatileke 5 for 32)
At Darley Road: Match drawn
St. Joseph's 210 (Dylan Fernandopulle 73, Shammi Seneviratne 24, Trishan Thanuja 23, Duran de Alwis 21, Fabian Fernando 20, Nirvana Abeysekera 17: Sangeeth Cooray 4 for 47, Lahiru Heshan 3 for 59, Avishka Fernando 2 for 21) and 108 for 5 (Kalpa Ravihara 23 n.o.: Isuru Mendis 3 for 43)
St. Sebastian's (95/3 overnight) 254 (Sangeeth Cooray 95, Kasun Thilina 32, Sachintha Fonseka 29, Shan Fernando 26, Luke Jayadeva 16: Hasindra Perera 4 for 42, Aravinda Akurugoda 3 for 60, Shammi Seneviratne 2 for 49)
At Maradana: Match drawn
Zahira 239 (Nikzy Ahamed 96, Mohamed Inshaf 38, Ahamed Azlan 25: U. Karunaratne 4 for 19, Tharushan Iddamalgoda 4 for 72, Chamara Nishantha 2 for 51) and 307 for 6 (Salman Fazil 144, Mohamed Inshaf 47, Dileepa Samarasekera 28, Nikzy Ahamed 26, Arshad Imamudeen 20, Ahmed Azlan 19 n.o.: Chamara Nishantha 2 for 40, Tharusha Iddamalgoda 2 for 77)
Lumbini MV (121/6 overnight) 232 (Thanuka Dabare 38, Wasana Madusanka 47, Tharushan Iddamalgoda 77 n.o.: Ramzan Rafaideen 3 for 37, Salman Fazil 3 for 70, Mohamed Shaheen 2 for 39)
At Maggona: Match drawn
Sri Dharmaloka MV Kelaniya 269 (Lakshitha Dhananjaya 58, Punsara Wimalagunasekera 55, Samitha Ranga 35, Thiwanka Kekulawala 61 n.o.: Hashan Rangana 3 for 27, Shivindu Thilakshana 3 for 75) and 14 for 2
Sri Sumangala Panadura (24/0 overnight) 204 (Geeth Sanjaya 49, Vishad Randika 45, Heshan Dhanushka 26 n.o.: Nishan Hasarel 5 for 71, Punsara Wimalagunasekera 2 for 56)
At Horana: Match drawn
Taxila Central Horana 256 (Ruwan Pushpakumara 43, Emindu Sudasinghe 39, Vinod Kavinda 35, Shanuka Sandanayake 31, Hasitha Dilshan 27, Chalana Dilshan 25, Kavindu Eranga 21: Chilan Anjana 3 for 39, Lahiru Prasanka 3 for 60, Nimesh Mendis 2 for 46) and 127 for 9 (Chalana Dilshan 43: Sakun Kanchana 2 for 5, Chilan Anjana 2 for 20, Chathura Dhananjaya 2 for 20, Mahesh Sanjeewa 2 for 32)
Sri Devananda MV Ambalangoda (78/4 overnight) 296 (Imesh Udayanga 120, Chathura Milan 56, Sakun Kanchana 49, Lahiru Prasanka 38: Duminda Sampath 4 for 68, Vinod Kavinda 2 for 27, Shanuka Sandanayake 2 for 47, RuwanPushpakumara 2 for 68)
At Reid Avenue: Match drawn
Royal 196 (Harith Samarasinghe 54, Hashen Ramanayake 43, Naveen Nimesh 27: Uditha Mahindaratne 5 for 75) and 162 for 7 (Devind Pathmanathan 20, Harith Samarasinghe 16, Saminda Dias 57 n.o.: Uchitha Mahindaratne 2 for 21, Vivesha Gunasinghe 2 for 38, Buwaneka Wijesinghe 2 for 41)
St. Anthony's Katugastota (101/1 overnight) 201 (Kanishka Uggalpitiya 61, D. Panditharatne 44, Pulasthi Bandara 30: Devind Pathmanathan 5 for 40, Harith Samarasinghe 2 for 10, Malith Kariyawasam 2 for 19)
At Raddoluwa
St. Mary's Kegalle 218 (Thimira Supun 41, Sandaru Priyadarshana 27, Hansaka Dilruk 24, Lahiru Madushan 20: Dilan Indika 4 for 53, G. Tharindu 3 for 52, Rasika Priyankara 2 for 20)
Raddoluwa MV 108 for 2 (Kanishka Perera 24, Thilina Perera 43 n.o.)