Mathews magic heralds Abu Dhabi as First Test ends in draw
By Yohan Basura reporting from Abu Dhabi
Sri Lanka vs Pakistan Test Series
View(s):
Sri Lanka hinted of becoming a strong contender in the Test arena when they turned about the fortunes of Pakistan and made them fight for a draw in the first Test match concluded at the Sheikh Zayed Stadium here in Abu Dhabi yesterday.
Completely twisting the game that had everything in Pakistan's control until the third day, Sri Lanka, spearheaded by a fitting captain's knock from Angelo Mathews, eyed a win as the hosts reached 158 for the loss of two wickets when play ended. Pakistan were chasing a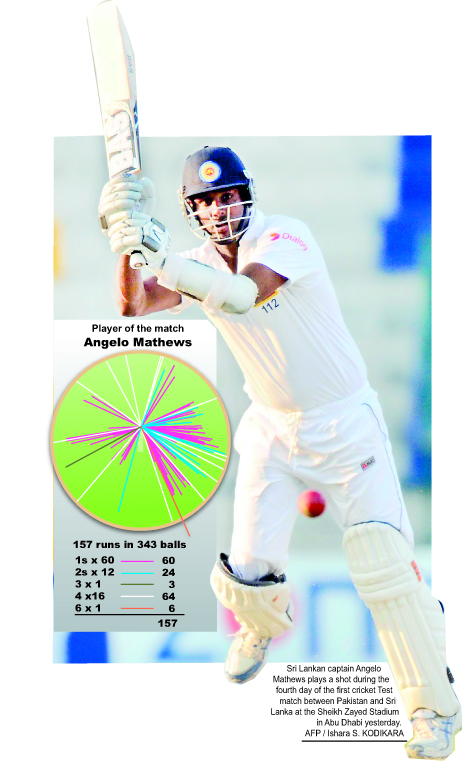 target of 302 runs, which seemed moderate with their strong batting lineup but proved to be challenging after the Sri Lankan bowlers' efforts and condition.
Sri Lanka who were demolished for 204 in the first innings made a resounding comeback by posting 480 for five wickets declared while aided by two centuries Pakistan posted 383 all out in their first innings. Younis Khan (136) and skipper Misbah-ul-Haq (135) hit centuries for Pakistan but Mathews' effort of 157 not out outnumbered them both. With his first inning knock of 91 off 127 balls which included 15 fours, Mathews went on to clinch the man-of-the-match award.
With the final outcome Sri Lanka will be fully geared with for the second Test which begins on Wednesday at the same venue. The tourists could be contended themselves with the second-innings effort but will have to seriously consider in getting the bowling department in order. A better effort in the first innings would have definitely made the first Test more interesting but after sitting in the receiving end on the first three days, Sri Lanka finally discovered that missing link in their team spirit, to enjoy major honours of the match.
Sri Lanka looked as if they were stepping into the winning mode the moment Pakistan lost opener Khurram Khan for eight at 24 but it only made the hosts act more resilient. By this time Pakistan, who played aggressively to chase the target, had understood Sri Lanka's intentions and looked keener in safeguarding their wickets. This forced opener Ahmed Shehzad and Mohammad Hafeez to bat together for 31 overs as they added 101 runs for the second wicket. When Shehzad was sent back to the pavilion by left-arm spinner Rangana Herath he had made 55 runs facing 109 deliveries, hitting seven fours. When play ended Hafeez remained unbeaten on 80 off 136 deliveries with 11 boundaries and Younis Khan faced 42 balls for his 13 not out.
Sri Lanka skipper Mathews used five bowlers but paceman Suranga Lakmal and Herath were the ones who managed to claim a wicket each.
Minutes prior to lunch Sri Lanka declared their second innings, after having battled and salvaged for almost entire two days, at 480-5. Mathews' remained unbeaten on 157 off a marathon tally of 343 deliveries inclusive of 16 fours and a six and Prasanna Jayawardene was 63 not out off 169 balls with six fours and a six. The pair stood together to make and unbroken partnership of 156 runs for the sixth wicket.
Mathews' earlier shared 138 runs for the fifth wicket with Dinesh Chandimal who initiated the change of the game. His composure-filled knock of 89 off 166 deliveries with 12 fours helped Mathews to continue his form from the first innings and complete 248 runs in both innings. Sri Lanka's most trusted and dependable batsman Mahela Jayawardene failed miserably as he fell victim, all caught behind, to debutant Bilawal Bhatti for the third time, after having survived the initial dismissal of a no ball.
Kumar Sangakkara hit 55 off 99 balls with six boundaries and shared 101 runs for the second wicket with Kaushal Silva who hit his maiden half century, 81 off 177 balls inclusive of 11 fours. Opener Dimuth Karunaratne made 24 from 56 deliveries. Though Pakistan used five bowlers, one extra from the first innings, Junaid Khan and Bhatti were most successful with three and two wickets respectively.
Pakistan's first innings 383 was propelled by Khan and Misbah centuries. Khan's 136 came from 198 balls as he hit 19 fours and a six while Misbah faced 306 balls for his 135 and hit 16 fours and a six. Both shared 216 runs for the fourth wicket and dominated the second day. But the flow of their dominance came to a halt when they lost their latter six wickets for 54 runs, after standing at 329-4 at one stage. Spinner Rangana Herath and paceman Shaminda Eranga took three wickets each as Suranga Lakmal picked two. Mathews had a wicket but debutant off-spinner Sachithra Senanayakeended wicketless, as in the second innings.
In their first innings Sri Lanka after making a good start were shot out for 204 runs, with Mathews emerging as the top scorer. Junaid Khan who completed a match bag of eight scalps claimed five wickets and Bhatti picked three wickets on his way to complete a match bag of five wickets. Pakistan won the toss of the match.
At the post-match press conference skipper Mathews revealed that paceman Nuwan Kulasekara will have to fly back to Sri Lanka due to a hamstring injury.
"Nuwan (Kulasekara) has been ruled out of the rest of the tour and he will return to Sri Lanka in two days. Though opener Dimuth Karunaratne is injured, he will remain in the squad. We will not need to add any players because there are already 16 in the squad," Mathews said.
Scoreboard

Sri Lanka 1st innings 204 (A. Mathews 91, Dimuth Karunaratne 38, Kaushal Silva 20; Junaid Khan 5-58, Bilawal Bhatti 3-65, Saeed Ajmal 2-32)
Pakistan 1st innings 383 (Younis Khan 136, Misbah-ul Haq 135, Ahmed Shehzad 38, Khurram Manzoor 21; S. Eranga 3-80, R. Herath 3-93, Suranga Lakmal 2-99)
Sri Lanka 2nd innings (overnight 420-5)
D. Karunaratne b Junaid 24
K. Silva c Akmal b Junaid 81
K. Sangakkara c Younis b Bhatti 55
M. Jayawardene c Shafiq b Bhatti 0
D. Chandimal c Ali b Junaid 89
A. Mathews not out 157
P. Jayawardene not out 63
Extras (b4, lb7) 11
Total (five wkts dec; 168.3 overs) 480
Fall of wickets: 1-47 (Karunaratne), 2-146 (Sangakkara), 3-150 (Jayawardene), 4-186 (Silva), 5-324 (Chandimal)
Bowling: Junaid 36-3-93-3, Ali 38.3-9-92-0, Bhatti 36-8-146-2, Ajmal 49-10-115-0, Hafeez 9-1-23-0
Pakistan 2nd innings (target 302)
Khurram Manzoor c Prasanna b Lakmal 8
Ahmed Shehzad lbw b Herath 55
Mohammad Hafeez not out 80
Younis Khan not out 13
Extras (lb1, nb1) 2
Total (for 2 wkts; 52 overs) 158
Fall of wickets: 1-24 (Manzoor), 2-125 (Shehzad)
Bowling: Lakmal 13-1-43-1, Eranga 11-0-38-0 (1nb), Herath 21-8-37-1, Mathews 2-0-9-0, Senanayake 5-0-30-0