2013: The tale of three titans
View(s):

As the most significant occurring in 2013 and its whereabouts, cricket-wise, I count the retirement of three of the greatest cricketers of all time from the men-in-white 'Test' segment.Its significance comes from the sheer impact that these three cricketers have made as three individuals from three separate continents to the game of cricket in the same era.

At the same time they are the three run peaks in modern day cricket. Kallis is the third most successful batsman in the history of the game after Sachin Tendulkar (15,921) and Ricky Ponting (13,378) when he finished his Test career with 13,289 runs.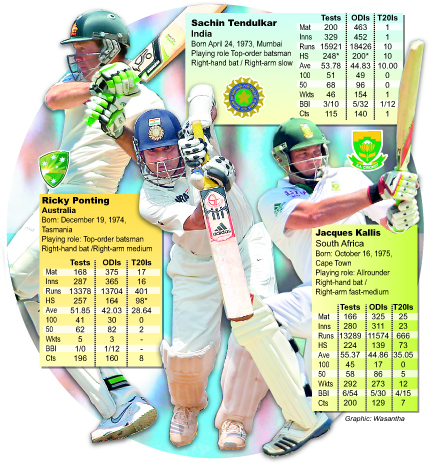 They not only pleased millions of cricket fans around the globe with their inherent skills, but also enriched the game and left a set of standards for the next generation of cricketers, raising the bar to unimaginable levels. But, now they are only history.
First to ring the bell was the Australian batting maestro Rickey Ponting who at one point of his career showed no inclination to get out once he walked onto the crease. So much so Pointing rates only second to Sir Donald Bradman in the eyes of the Australian cricketing gentry.
In his staggering 168 Test appearances, Ponting scored 41 centuries and 62 half centuries at an average of 51.85, ending up with 13,378 runs against his name. Besides, Ponting also held on to 196 catches and was considered one of the best close-in fielders in his era.
Pointing who made his Test debut against Sri Lanka in 1995 in Perth missed scoring a debut century by just four runs when he was trapped-in-front by Lankan seamer Chaminda Vaas. He retired just before Sri Lanka played their last series against Australia in the turn of the year, after he had failed twice against the South Africans also in Perth.
However, Pointing, a member of the Australian 'golden era', during which they remained unconquerable for almost one-and-a-half decades, led his side with the same aplomb as his predecessors have done and ended up as one of the most flamboyant cricketing characters in the modern era.
Six years before Pointing began his prowl, teenager Sachin Tendulkar played his first Test match against Pakistan at the National Stadium, Karachi.
From the time Tendulkar set foot beyond the boundary, he was cut out for greatness. Nonetheless he too lived up to expectations. From the very formative years in Test cricket, runs flowed from his willow.
Tendulkar was only 16 when he made his Test debut. He was hit on the mouth by Waqar Younis but continued to bat, in a blood-soaked shirt. A year later came his first Test hundred, a match-saving one at Old Trafford.
Tendulkar had 16 Test hundreds before he turned 25. In the turn of the millennium he became the first batsman to have scored 50 international hundreds. By 2009, he had gone past 13,000 Test runs, 30,000 international runs and 50 Test hundreds.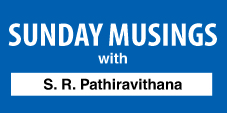 However, that he too began to feel the pressures of international cricket was evident when one goes through the last four years of his international career: He scored only one Test century.
To the surprise of all, during his weaning years, Tendulkar at 36 years and 306 days broke a 40-year-old barrier by scoring the first double-century in one-day cricket. In 2012, just one month short of his 39th birthday, he became the first player to score 100 international centuries. He announced his retirement from ODIs before leaving Test cricket after a disappointing 18 months in international cricket.
On November 16, 2013, Tendulkar retired from Test cricket after a memorable 200th Test, on his home ground at the Wankhede Stadium against West Indies.
But, that came at a cost to Indian cricket. The BCCI had to tamper with the Indian tour of South Africa badly and ended up with only two Tests and revised dates. Meanwhile, the BCCI negotiated with the West Indies for the short tour and then shifted a Test match to Wankhede Stadium, to give Tendulkar his farewell and 200th Test match on his home grounds.
I still can remember reading the Cricketer Magazine in 1994 and in that particular issue there was a little snippet about two promising allrounders emerging in South Africa by the names Shaun Pollock and Jacques Kallis – both fast bowlers who could more than just bat.
During the next England tour of South Africa in 1995 both these young cricketers made their debuts. Pollock who had better cricketing blood in his veins played from the first test while Kallis made it into the side in the third Test. The third test match was washed off in three days and Kallis launched his Test career with one run, batting in the middle order.
If the cricket careers of both Ponting and Tendulkar raged like wildfire from the very onset capturing the imagination of fans, the career of Jacques Kallis slowly ignited. Like good old wine it matured with time.
He was an allrounder, who batted in the top order and a frontline bowler who delivers his stock ball at 145+ km.
Kallis was also not the most handsome stroke maker who makes the pavilion go 'wow' with his cover drives. Yet, like the other two men he also put a heavy price on his wicket. He launched his career on December 14, 1995 against England at Durban and ended it on December 30, 2103 against India also at Durban. During the 18 years that he made his presence felt in the Test arenahe accumulated 13,289 runs at an average of 55.37 with the highest score of 224 while amassing 45 centuries and 58 half centuries.
He may have scored only one run at his debut, but he scored a match-winning hundred in his closing inning, a feat which the other greats failed achieve.
Besides, he has bagged 292 Test wickets and also held 200 Test catches – no ordinary performance, especially when you are a top order batsman who once batted at number 3.
There was another aspect to his career. Undoubtedly he is the best contemporary allrounder. But, for some time there have been arguments as to who could be the best allrounder ever. Is it Sir Gary Sobers, Kapil Dev, Imran Khan, Ian Botham, Shane Watson or Jacques Kallis?
There are bowlers who could bat. Then there are batsmen who could bowl. But, cricketers who could shine in all three departments equally are, of course, a rare breed and the void created by Kallis is really a great loss to Proteas' cricket.
But, as a whole the contribution made by the three cricketing greats would be incomparable.
I only hope cricketers of this calibre would be born in the future too. If not, the game that we love may suffer.