Tony published 'Mata Kauruth Aadaree Ne'
View(s):

Internationally acclaimed actor, screenplay writer and author Tony Ranasinghe has released his latest book "Mata Kauruth Aadaree Ne" (No one loves me). 
Written decades ago it is a novel which depicts the natures of youthful love and affection upon family and siblings. The story revolves around three sisters in a family who though at times quarrel with each other over love and also care for one another despite whatever disagreeability existed between them.
Earlier Tony did the Sinhala version of Indian journalist Bunny Reuben's 'Dilip Kumar – The Definitive Biography'.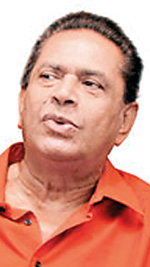 In cinema Tony did the script for the controversial film 'Koti Waligaya' and a number of others including 'Keli Mandala', 'Awaragira' and internationally awarded 'Pawuru Walalu' directed by Prasanna Vithanage. This was followed by Sinhala versions of 'Twelfth Night', 'Merchant of Venice' and 'Julius Caesar' for the stage. Later he also wrote a number of teledrama scripts for the mini screen.
Began his career in the theatre with a role in Ran Thodu in 1963 which won him the Governor General's Award for the Best Stage Actor, Tony made his debut in cinema with Lester James Peries' Gamperaliya (1964) and followed it with 'Ran Salu'.
In his long career Tony won many awards including the Best Supporting Actor Sarasaviya Award in 1966 for his role in 'Parasathu Mal', Best Actor Awards for 'Hanthane Kathawa' (1969), 'Duhulu Malak' (1976) and Ahasin Polawata (1979). In 1993 'Saptha Kanya' won him the Best Actor Awards from Sarasaviya, Swarna Sanka, Presidential and OCIC.
Published by "NirmalaPrakashana", the novel is available at popular book stores islandwide.