'Madani' a memorable journey in theatre
By Susitha R. Fernando
View(s):
Malwa A festival of drama featuring award winning theatre actress and television star Madani Malwattege will go on the boards from January 10 to 14, at Lionel Wendt Theatre and Nelum Pokuna.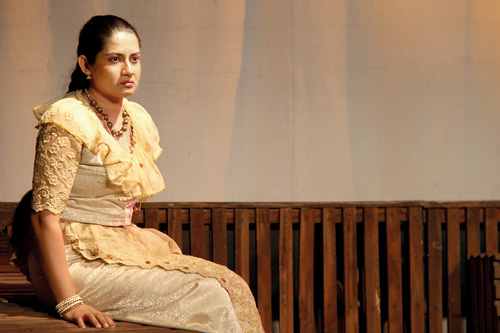 Titled 'Madani', the festival will showcase K. B. Herath's 'Jaganma' (Dec 10), Udayasiri Wickremaratne's 'Suddek Oba Amathai' (Dec. 11), K. B. Herath's 'Kalu Kumari' (Dec 13) and Dr. Jayalath Manoratne's 'Sellam Niridu' (Dec. 14) at the Lionel Wendt theatre and on December 12 Ariyaratne Ethugala's 'Maha Samayama' at Nelum Pokuna.
Madani won the best talented actress's award at State Drama Festival for her remarkable roles in Susil Gunaratne's "Denuwara Dennek" ( 2007) , K.B Hearth's  "Jaganma" (2009) and K. B. Herath's "Kalu Kumari" (2013).
"My main aim in having this festival is to present a collection of theatrical production to Sri Lankan audience," Madani said getting ready for the festival.
Hailing from Peradeniya, Madani reached the pinnacle in her career through sheer dint of perseverance and life-long dedication to the Sinhala theatre. Having played award winning roles representing Peradeniya Sarasavi Uyana Maha Vidyalaya and Kandy High School at interschool theatre competitions and studied music, Madani joined the National Youth Services Council to improve her career in drama. Starting with Jayalath Manoratne's 'Kaneru Mal' in 1999, over the years, Madani has carved out a dominant role in the arena of Sinhala drama and theatre. She had played roles in dramas that were considered as junctures in Sri Lankan theatrical journey. These include Prof. Ediriweera Sarachchadra's 'Maname' and 'Sinhabahu', Simon Navagaththegama's 'Suba Saha Yasa', R. R. Samarakone's Kelani Palama, Dayananda Gunawardena's 'Madura Jawanika' and many more.
"I am glad that I was able to act in these plays which are considered landmarks in Sri Lankan theatre," Madani said. Madani has played in a considerable number of teledramas and today she is one of the much sought after actresses for the miniscreen. "The experience I gained from the theatre has helped me to keep my feet strongly in television," she said expressing her gratitude to all the theatre producers under whom she worked.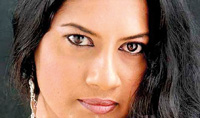 Questioned about the stereotypical and substandards teledramas and actors and actresses, she claimed that mushrooming of directors and stars has lead to the downfall of the artistic quality of the teledrama.  "In the teledrama industry the artistes have become 'day labourers' who toiled on a daily basis for long dragging tele productions," she said. Commenting on stars who emerged overnight and faded away subsequently, Madani says that giving priority to outwardly appearance rather than the talent has created this situation.
Having had a stint in a few films, Madani is waiting to contribute to 'good' cinema productions.  This festival will be orgainsed by Sadjana Sahurada Sansadaya and is sponsored by Toyota Lanka private limited.