Golden Jubilee celebration for Somasiri veteran baila singer
View(s):

Somasiri Fernando is a quiet man by nature . Therefore some of his artistic deeds have gone un-noticed during almost his entire musical career.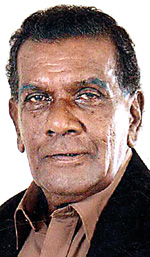 Tall and lanky Somasiri celebrated the completion of fifty year as a songster with the launch of his latest CD on Saturday 2nd November 2013 at an impressive ceremony held at the Moratumulla, Methodist Church Parish Hall, Moratuwa with MP Vidura Wickramanayake gracing the occasion as chief guest among many other distinguished personalities and fellow artistes. He is a quality Baila singer from the top shelf and is best known in the country for his evergreen smash hit " Suraliyaka Wage Ruwina" the favourite song sung at almost every social function . With this singular hit song, he shot to national fame as one of the most popular Baila singers in the local music scene. His other popular hits include 'Malee' " Police Ralahamy"," Ay yanne" , " Adarei , adarei" among many others.
Somasiri's latest CD is musically arranged by Chathuranga Fernando and recorded at Simple Audio Recording studio. Moratuwa. He is a nationally graded and recognized radio artiste from the early Radio Ceylon days and his vibrant deep singing voice is still very much in demand at musical functions, Radio & T.V.
Somasiri had the distinction of recording his songs for the " H.M.V" (His Master's Voice) 'Columbia' and 'Philips' labels earlier on and had performed playback singing for the Sinhala films 'Dutu Gemunu' and 'Thank you Berty'.
Apart from his musical career, Somasiri is a God-fearing Methodist and also the present Vice-Patron of the Moratuwa Arts Forum.