Saga Award for Club Palm Bay
View(s):

Club Palm Bay, Marawila was awarded The Saga Holidays 'highly commended stay award' for 2013 for their contribution towards ensuring Saga guests have an unforgettable stay. The award is given for quality of accommodation and consistency in high standards of service.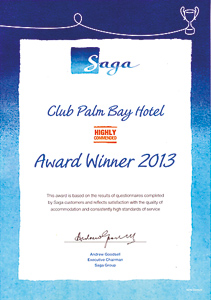 A Colombo Fort Hotels product, Club Palm Bay – a 162 deluxe roomed resort hotel, the first all-inclusive hotel to be opened, located North of the BIA.
'Striving to improve our guest facilities and quality of services, the hotel contributes this award to their management and staff for the efforts taken to see that the guests experience a memorable stay at the resort' said the Gm of the hotel.
Club Palm Bay was also honored with the 2013 trip advisor certificate of excellence, an accolade which honors hospitality excellence, and provides top performing establishments around the world the mark of recognition they deserve based on feedback received from their guests.
For more information log on to our website www. clubpalmbay.com