Popular plays at Wendt
View(s):

Award winning play "Man Diyawela" (I melt away) directed by Thanuja Wanniarachchi and written by Nipuna Balasooriya and two children plays directed by Yashodhara Sarachchandra and Kusumsiri Liyanaarachchi will be staged on "Dangaya" and "Punchi Andare" on December 20 and 21.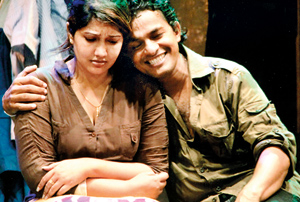 "Man Diyawela" which won the awards for the Best Drama, Best Actor, Best Direction, Best Music, Best Lighting, and Best Set Design and Jury award for the Script Write at the National Youth drama festival and National theater festival will be staged on Friday December 20 at Lionel Wendt Theatre at 3.30 and 7.00 p.m.
The play stars Jagath Chamila, Piumi Botheju, Jagatha Manuwarana, Kalana Gunasekera and Thusitha Laknath while music composition, make up, set design and lighting maneuvered by Palitha Abeyratne, Naradha Thotagamuwa, Nipuna Balasooriya and Ranga Samarakoon respectively with Chathurani Thilakarathne's costume design and Lasantha Francis and Madura Prabashwara's stage management. The show is organised by Jude Srimal.
Prof. Ediriwira Sarachchandra's youngest daughter Yashodhara and Kusumsiri Liyanaarachchi's theatrical exploration "Dangaya" and "Punchi Andare" will be staged on December 21 at 3.30 and 6.45 p.m. at Lionel Wendt Theatre.
The objective of the plays is to cultivate a healthy appreciation for drama among young audiences. The actors include Sunil Thilakaratne, Jayanath Bandara, Pradeep Ramavikrama, Pramila Samarakoon, Kalum Kalhari Gamlath, Madhuranga Sri Lal, Nadeesha Sandamali and many more. "Dangaya" and "Punchi Andare scripts are done by Kusumsiri Liyanaarachchi; music compositions by Yashodhara Sarachchandra and music direction by Shantha Peiris.
The production is co-directed by Kusumsiri and Yashodhara. The main organizer for the productions is Jude Srimal. Produced by Nirmala Maginaarachchi, Chairperson, Nordic Design, tickets are available at Lionel Wendt Theatre and all seats have been box-planned.