Meditation on wheels
Mountain bike coach Darcy Steinhardt is gearing up to share his skills with enthusiastic bikers at a biking clinic this month
View(s):
Darcy Steinhardt didn't get on a mountain bike till he was 30 years old but when he did it changed him forever. Then recovering from a very serious cancer scare, the off-road motorcycle racer desperately needed something new to focus on. In an email interview to the Mirror Magazine, Darcy reveals: "Little did I know mountain biking would literally save my life, I found that riding amongst the mountains allowed my stress to disappear, my health to improve and I found riding a mountain bike didn't feel like exercise at all because it was so much fun and believe me when I say I was not very good when I first started riding nor did I enjoy exercise." Applying his motocross racing skills (gained by competing at the national level) to mountain biking improved Darcy's performance dramatically. Now, he's coming to Sri Lanka to share those tips and tricks with local mountain biking enthusiasts.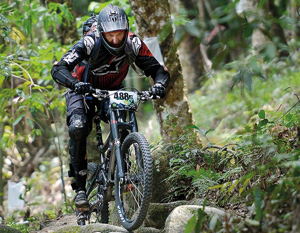 Mountain biking has its fair share of local fans says Akhry Ameer, a director at Muddy Boots Pvt. Ltd, which plans to stage a two day mountain biking skills coaching clinic later this month. "Interest in mountain biking has been growing in the recent years," says Akhry, noting that there are several groups some of whom ride in the city and others who organise trips that take them off road.
"The level of interest has seen about three major international cycle brands collaborating with local agents." He's certain the training will come in useful."So many riders have hi-tech bikes. However, not all of them are using it fully for its designed purpose…It is this void that Muddy Boots is trying to fill – sharing knowledge in terms of techniques and tips and organising cycling trips." 
A mountain bike can cost anywhere from Rs.50,000 to Rs.700,000 so most riders are interested in acquiring the skills that will make their investment pay off. For Darcy, these skills make the difference between a fun and safe ride and one that puts the rider in danger.
As a coach he says he's looking to impart the know-how he's picked up from racing at an elite level even as he tailors the coaching to suit the strengths and the weaknesses of individual riders. He pays particular attention to correct body position (a balanced position on the bike), correct use of brakes and gears, (something very few people really understand) and balance and momentum. 
Technical difficulty can mean steep inclines, going over rocks or narrow bridges, and drops or jumps, he explains, adding, "when you start out, a nice smooth flowing trail with just a few roots or rocks is awesome." However, approach that root or rock wrong and there's a chance you could be thrown from your bike.
"To be completely honest, falling off a Mountain Bike is an occupational hazard really only experienced by those who do not have the correct skills and it mostly happens when people descend down hills without the correct skills in knowing where to position their body and how to use their brakes correctly and balance, all these skills can be easily taught in just one day even to someone who can barely ride a bike," he says confidently. 
Though it may take a little practice, mountain biking can become addictive. Though it's such an active, adrenaline filled sport, Darcy says it can also be like 'meditation on wheels.'
Organised in collaboration with Zero2Hero, The Muddy Boots Mountain Bike Skills Coaching Clinic will be held on October 26 and 27 from 9am to 4pm each day at Ayr Castle in Meepe. For more details email info@muddybootslanka.com or contact +94777516555.
comments powered by

Disqus