The error is regretted, but it was, nevertheless a huge delegation sent at great cost
View(s):

Environment and Renewable Energy Minister Susil Premajayantha and former Foreign Minister Rohitha Bogollagama have taken up cudgels with the Sunday Times Diplomatic Editor's news item last week captioned "Mammoth delegation, Twitter fiasco, infighting, mar President's UN visit" and they both say that they were not part of this mammoth delegation.
The Sunday Times stands corrected.

The mistake occurred by the publication of an earlier photograph taken of a Sri Lankan delegation to the UN General Assembly sessions where both Mr. Premajantha and Mr. Bogollagama were present, and a mix up in the photographs published last week. We regret the error.

That said, the gist of the story remains correct that it was a "mammoth delegation" that accompanied the President to the UN at great cost to the direct and indirect tax-payer, a cost that is not divulged because the public is not informed who was in the delegation, which hotels they stayed in, the car hires, and generally the costs incurred for the whole exercise.

When Foreign Secretary, K. Amunugama was asked for the names of Sri Lanka's delegation, he said, he'd rather not say.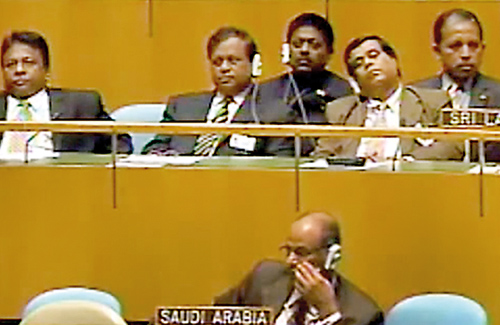 comments powered by

Disqus