Poor mental health: National institute can't cope with the demand
Inadequate facilities, insufficient personnel and a centralised, narrow treatment regimen fight a losing battle against rising mental illness. Aanya Wipulasena reports
View(s):
About a month ago, a 25-year-old youth killed his father, then walked into the nearest police station and informed that the body was lying in his house. He also told police that he was suffering from a mental illness for over 10 years.  Following a court order he was later admitted to the National Institute of Mental Health (NIMH), Angoda, where he was diagnosed with schizophrenia.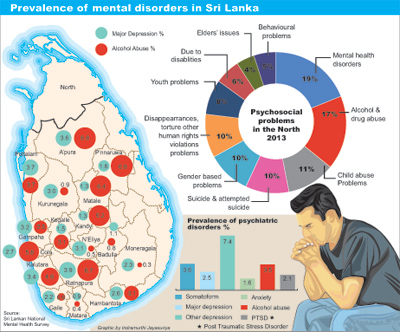 In another incident, a 42-year-old man stabbed his wife to death in a jealous rage. Admitted to the NIMH about three months back, he was diagnosed with a condition known as delusional jealousy or Othello syndrome, the belief that one's spouse was unfaithful.
"The number of people suffering from mental illness in the country is on the rise, and I believe the present mental health services are inadequate, because they do not cater to the majority of people who require them," NIMH Consultant Psychiatrist Dr. Neil Fernando, said.
According to NIMH statistics, one out of five persons in Sri Lanka suffers from a mental illness, and only 20% receive treatment.  "We have failed because our services are still centralised, and only available in the cities. Also, as our treatment is hospital based, only those who come to hospitals get treated. Most mentally ill patients are reluctant to get medication. Hence, only a fraction gets medical attention," he said.
Dr Fernando also said that, as treatment in Sri Lanka is given by medical officers or doctors on a one-to-one basis, the treatment is not very convenient. "About 200 patients visit the Colombo National Hospital daily, and are attended to within an interval of four hours, during which time there is little that we could do," he said, adding that there are very few psychiatrists and doctors trained in psychiatry, in the country.
Mental Health Director Dr. Rasanjalee Hettiarachchi speaking on the shortage of psychiatrists, said that there are only 67 Consultant Psychiatrists in the country, while a cadre of 200 is needed. She added that, according to ministry forecasts, a psychiatrist is needed in every district. Currently, 60% of the Psychiatrists are working in the Western Province.
She said that in areas such as Mullaitivu, Kilinochchi and Mannar there aren't any consultant psychiatrists. In addition, Sri Lanka has no psychologists working in State hospitals. Dr. Hettiarachchi said it is intend to recruit a cadre of 24 psychologists by next year, to provide psychotherapeutic treatment.
Dr. Hettiarachchi further said that suicide attempts are increasing. Around 10 suicides are reported islandwide daily, with half the victims having suffered from depression. "Mostly, it's the youth who are inclined to attempt suicide. We believe that the reason for this is impulsiveness and the inability to cope. To them, suicide is the easy way out of the smallest problem," she said, adding that, females outnumber males attempting suicide.
Meanwhile, Professor Daya Somasundaram who is investigating psychological problems among people in the Northern Province, said there is a need to re-establish mainline psychiatric services in the North. "Minor mental health disorders due to war trauma and postwar factors are widely prevalent, and are not being addressed adequately, if at all," he said. Quoting statistics from several studies undertaken recently on Wanni IDPs, Prof. Somasundaram said 13% suffer from Post Traumatic Disorder (PTSD), 49% from anxiety disorders and 42% from depression.
Quoting from a separate study done on Sri Lankan military personnel who had been in active combat, the Professor said that 6.7% had PTSD, 15.7% had depressive disorder, 9.5% had psychosis schizophrenia, while suffering from alcohol and substance abuse."Exposure to combat was significantly greater among those who were deployed in the North and East of Sri Lanka, and hence showed significantly higher mental health and psychosocial problems. All these affected communities need for psychosocial rehabilitation," the Professor said.
"Due to the widespread nature of the impact of war trauma, it may be more appropriate to use public mental health approaches in most postwar States, for the rehabilitation of affected populations," Prof. Somasundaram said, adding that, a community-based approach will enable one to conduct preventive, promotional and long term public mental health activities simultaneously.
He said that postwar rehabilitation should be done with the same commitment and effort as was seen after the tsunami, as the impact and consequences are similar if not worse. "Tragically, psychosocial rehabilitation has been neglected, and even prohibited in the militarised postwar context," he said, explaining that individuals will be able to recover and cope when communities are functional, activating healing mechanisms within the community itself.
Furthermore, according to Health Ministry statistics, by the end of 2012, 50% of Sri Lanka's population suffers from alcoholism. NIMH Director Dr. Jayan Mendis, said that due to the increase in alcohol abuse, victims are vulnerable to various kinds of mental illnesses. "We also see a very high prevalence of addiction to narcotics such as heroin and cannabis in the country, in the recent past. However no studies have been done on this," he said.
Dr. Mendis explained that because of the stigma attached to mental illness, families are reluctant to accept that a family member is suffering from it. "There are still people who believe that mental illness is a cause of some unseen power and that performing a religious activity will cure the patient," he said, and as if to make a point the doctor got a phone call from a person saying that they were performing a baliya (exorcism) on a patient, as Dr. Mendis tried explaining that it wouldn't help, but to increase the medicine dosage.
"I still believe psychiatric modalities and facilities in Sri Lanka are insufficient. Rehabilitation activities still need to be developed and spread islandwide. Due to this deficiency, mental health patients, their next-of-kin and the mental health professionals have to suffer," he said.
NIMH Consultant Dr. Fernando said that community-based services should be improved in the country to address the issue. "Earlier, patients had to come to us, but now, we go to them, and also, rather than restricting treatment to the disease, we should be able to help patients change other factors that contribute to the illness as well," he said, adding that they have started this as a pilot project in Kolonnawa and Kaduwela areas, where initial results are positive.
World Mental Health Day to promote National Mental Wellbeing
To celebrate the forthcoming World Mental Health Day on October 10, the Health Ministry is to conduct awareness programmes and discussions of issues on promotion, prevention, treatment, rehabilitation services and stigma related to mental health.
As this year's theme focuses on 'Mental health and older adults', all officials involved in mental healthcare will organise programmes with the relevant target groups, elders homes, community organisations and in schools to promote this year's theme.
Meanwhile, the NIMH will observe the day by promoting mental wellbeing through the public sale of butterflies made of cloth, starting with the President, the First Lady and ministers to raise funds. The CAN MHL or Consumer Action Network Mental Health Lanka, an umbrella organisation where several care groups get-together, will launch a project to spread the importance of mental wellbeing.
comments powered by

Disqus