Lanka's Development Bonds now only a misnomer
By Namini Wijedasa
Matured SLDBs re-issued in larger numbers to meet principal and interest commitments
View(s):
Sri Lanka Development Bonds have lost their "development" title as they are now used to repay maturing loans and cover interest, economists said last week, days after Cabinet authorised a 50 percent increase in the SLDB issuance limit for this year.On September 19, Cabinet approved President Mahinda Rajapaksa's proposal to raise the SLDB issuance limit from US$1,500 million to US$2,250 million. Just two months previously, ministers had consented to increase the limit to US$1,500 million for 2013.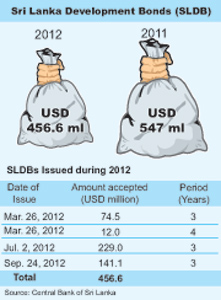 Speaking on condition of anonymity, economists said SLDBs were issued by previous governments starting from the regime of Chandrika Kumaratunga. They said there was no limit on the amount a government can borrow through this instrument.
"In the past, when they matured, on the one hand the Government did not have enough foreign exchange to repay them," explained one senior economist. "On the other hand, it did not have a comfortable budget balance to repay them. Hence, to meet both interest and principal, they were re-issued in larger numbers each time. SLDBs thereby lost their development connotation."
"Now a situation has arisen that you have to issue more than 50% to meet the interest cost and the principal involved in the previous issues," he said. "Hence, it is indicative of the budget's precarious situation of not being able to meet the commitment out of the general revenue."
"As long as budgets have deficits, they don't get revenue to repay the previous loans," he explained." A government will get that capacity only when it has budget surpluses."
Economists elaborated that, when a government has a deficit in the revenue account—that is, when its consumption is higher than its revenue—borrowings, whether domestic or foreign, are also used for consumption. This cannot be classified as "development". 
"Development expenditure is incurred for capital formation by the Government and one doesn't know whether it has been financed from revenue or borrowing because money is taken out of the common kitty of the Treasury," said the senior official earlier quoted. "Only a government which has balanced its revenue account can claim that it has borrowed for development."
It wasn't unusual for governments to issue Development Bonds several times a year, experts agree. This was dependent on the maturity pattern of previous bonds and the government's borrowing programme. 
"However, the Sri Lanka Government had announced in its budget for 2013 that it will not go for foreign borrowing," said one analyst. "The strategy there was that State banks will borrow on behalf of the Government and invest rupee proceeds of the foreign loans in Treasury Bonds. They would thus be the country's borrowings and not the Government's. The understanding was that no new SLDBs were to be issued to finance the Government's normal expenditure programmes."
Contrary to this, the new SLDBs are to be issued by the Central Bank's Department of Public Debt. Another economist stressed that it was important for a government to generate a high enough rate of return out of borrowed proceeds in order to repay the capital and interest, as well as "have a little extra". 
"Otherwise, what is the point of borrowing?" he asked. "You have to make sure the borrowed resources are utilized for productive purposes. This argument becomes even stronger in the case of monies borrowed from abroad because there is an exchange rate risk. If it is rupee borrowing, the Central Bank can print money and repay it. This will result in inflation and other problems but you won't default. In the case of foreign borrowing, you can't do that."
This economist said Sri Lanka, in its history, has never missed a single debt repayment. "However, if you keep increasing the borrowing limit and not using it productively, at some point in the future your credit worthiness can come into question," he said. "Then people will demand extremely high interest rates to give you any money."
If the situation worsens, the Government will have to impose austerity measures, experts warned. The current dispute between US President Barack Obama and the Republicans is on a similar point.
"Obama wants to increase the borrowing limits of the Government to repay previous Federal loans," one economist said. "Republicans want him to cut the budget deficits and do so. The failure to agree on a compromise has resulted in not approving the limit and, therefore, the budget. This has prompted Obama to shut down some Government operations. But Republicans have approved the paying of salaries to those sent on leave and it has now become a paid holiday for them."
In the previous shutdown of 1994-95, President Bill Clinton and Treasury Secretary Larry Summers were forced to convert US Federal budget to surpluses in 1999. "This good discipline was reversed by President George W. Bush by going back to historically high deficits after the 9/11 attack," he said. "So the Republicans were instrumental in correcting as well as destroying it."
comments powered by

Disqus