University of Reading, Henley Business School United Kingdom: Business School with a global reach
View(s):

Henley Business School at the University of Reading is a world renowned international business school based in the UK .The strengths of the prestigious ICMA Centre, the academic rigour of our School of Management and the world-renowned school for Real Estate &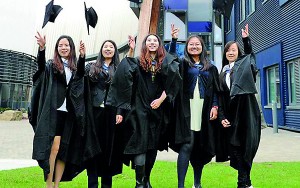 Planning are combined with Henley's 65 years' experience in growing business leaders. One of the world's few business schools to hold triple-accredited status, we have over 30,000 alumni in 140 countries.
Founded in 1945, by business for business, Henley was the first business school in the UK and is one of the oldest and most respected schools in Europe.
Our impressive full-service portfolio includes a range of undergraduate degrees and Postgraduate degrees in Accountancy, Business, Management, Finance, Real Estate, Planning, Informatics, and Coaching. We offer a world-class DBA and have a dynamic community of PhD students on postgraduate research degrees. Henley has an impressive track record of growing leaders and developing managers to make the right choices for their organizations and for the society they live in which are delivered through our executive education programme, the Henley Partnership and the Henley MBA. One of the very few business schools worldwide to hold triple-accredited status from the major UK, European and US awarding bodies (AMBA, EQUIS, AACSB), we are also the world's third largest provider of MBA education and home to the world-ranked Henley MBA.
The School represents the largest unit within the University of Reading, rated among the UK's most research-intensive institutions and ranked among the world's top 200 universities (The Times, 2008). Henley's global presence and reputation as a leading international business school are reflected throughout all aspects of our work. From our highly diverse faculty, in both background and expertise; to programmes which draw participants from more than 130 countries; from an international network of associates and collaborative partners to our alumni organization featuring 30,000 members from every corner of the globe.
We are home to some 7,000 students, ranging from the most promising undergraduates to experienced senior managers and board level practitioners. Whether students and programme members are taking a BSc or an MBA, reading for a PhD or completing an open executive programme, at Henley they will be inspired and empowered to advance, achieve and excel.
Mr Mahesh Yanambakkam , Regional Manager , South & Central Asia of University of Reading will be visiting Sri Lanka to meet potential students on Monday, 30th September 2013 at West 1 – Sri Lanka Representative's Office , Colombo. Interested students are invited to attend by making an appointment . email west1intl@eureka.lk
comments powered by

Disqus