UCD Business Management and HRM Degree Programmes at NIBM: World-class qualifications at affordable prices
View(s):

Choosing where to study for your business degree is a big decision. You may want to study at the best – a leading, internationally recognized business school that provides all the opportunities and skills you need to develop your future career, but would also be concerned in receiving at an affordable cost. The National Institute of Business Management (NIBM) is the answer to your question.
The National Institute of Business Management (NIBM) offers the Diploma and Higher Diploma programmes for students willing to complete their degree at the National School of Business Management (NSBM) which is NIBM's degree school. NIBM caters to the pathways of major degree programmes offered by world Class University, namely University College Dublin (UCD), Ireland. UCD,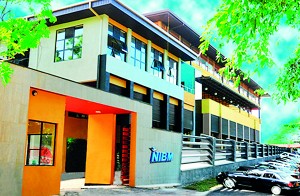 which is in collaboration with NIBM for the last 16 years falls within the best 25 universities in Europe and best 100 universities in the world.
UCD offers a B. Sc in Management and a B. Sc. in HRM degree programme in Sri Lanka, both of 04 year duration. The UCD Quinn School of Business, which is the degree awarding body for this programme, is the leading business school in Ireland, offering a wide choice of internationally recognized business degrees. UCD is the major component of the National University of Ireland (NUI), which is a federation of four Irish Universities. University College Dublin (UCD) has approximately 22,000 students and 2000 staff, making it one of the largest in Britain and Ireland. It is a fully accredited University with some of the largest schools in Engineering, Law, Medicine and Business.
UCD is the only business school in Ireland to hold accreditation from the American College of Business Accreditation, AACSB (International), the top European accreditation, EQUIS and AMBA. Less than 1% of business schools in the world hold this "triple crown of accreditation". Not only will you graduate with an internationally recognized degree, but you will also have a choice to select between Management and Human Resource Management for your specialization. The programme assures to challenge, motivate and inspire you, in an environment that promises fun, excitement and the opportunity to explore your true potential.
The Bachelor of Science (B. Sc.) is a prestigious undergraduate award and has been designed for those seeking to advance their education and careers in different business and management areas.  By the end of the Degree programme students will have acquired a solid conceptual and practical understanding of business, organizational management and management information systems; developed the skills to apply the relevant business concepts and techniques to resolve multi-faceted business problems; developed analytical, critical thinking and research skills to help facilitate life-long learning and demands for personal development and confidence building; acquired the necessary technical, knowledge-application, communication, teambuilding and leadership skills consistent with the changing needs of modern business and organizational management and shared a learning experience in which interactive class debate are major components.
This programme is aimed at meeting the growing demand across the region in the fields of two major thrust areas of the business: Business Management and Human Resources Management, and at developing the skills necessary for the participants' chosen area of business. The duration of the programme is four years, consisting of two years of full time (Advanced Diploma in Business Management and Higher Diploma in Business Management at NIBM), and last two years of study at NSBM, NIBM's degree school. During the last two years of the degree, students also receive an opportunity to gain work experience to add to their expertise.
All above programmes will commence in September 2013 and will be offered in parallel at NIBM's Colombo, Kurunegala, Galle and Kandy centres, so that students island wide could choose a centre at their convenience. Students also could obtain financial facilities from a range of banks for NIBM programmes.
NIBM provides management training, education and consultancy services for the public and private sector Institutions and for School Leavers. It is a well reputed and award winning Government Statutory body functioning under the Ministry of Youth Affairs and Skills Development. You may contact the Programme Office of NIBM via the hotline 011 5321000 for further details.
comments powered by

Disqus