Raffles Education Empire making great strides across Asia
Further commits high quality design education in Sri Lanka
View(s):
Raffles Colombo, a unique education provider in Sri Lanka specializing in Art & Design, has entered into an agreement with the Board of Investment of Sri Lanka (BOI) to establish and build a higher education institute in Sri Lanka. In this connection, Raffles has committed to invest a sum of US$ 70 million in the project. In the meantime, an application has been made to the Ministry of Higher Education of Sri Lanka ("MOHE") for degree awarding status to be granted to Raffles and the Institute has thus far been granted in-principle approval in respect thereof. Raffles Colombo, which is registered in Sri Lanka as Raffles Design Institute Private Limited, is the local arm of Raffles Education Corporation Limited (RECL), a reputable education provider listed on the Main Board of the Stock Exchange of Singapore. RECL is the largest private education group in Asia-Pacific. RECL operates 34 colleges in 31 cities across 12 countries.
Following are excerpts of an interview with Mr. Alex Quah, Director of Raffles Colombo.
Q. What are the courses available at Raffles Colombo?
Raffles Colombo has plenty of courses for the student who is looking to enter the world of Art & Design.
For students who have completed their Advanced Level (A/L) examination, Raffles Colombo offers the opportunity to complete the reputable Australian Degree – Raffles College of Design and Commerce (RCDC) – locally in Sri Lanka in the 3 Programs, namely, Bachelor of Design in Fashion Design, Interior Design and Multimedia Design.
For students who have completed their Ordinary Level (O/L) examination and are interested in design degree programmes, we offer a One Year Foundation Program. Students who successfully completed this Foundation Program are eligible to undertake the Bachelor of Design. Students who complete their O/L also have the choice to complete their Advanced Diploma Program in Fashion Design, Interior Design, Multimedia Design, Fashion Marketing and Visual Communication in Sri Lanka within 2 years and choose to complete their Bachelor of Design in Singapore or Australia to get the necessary International exposure. We offer flexible transfer system within the "Raffles Education Empire" of 34 colleges in 12 countries. This provides exposure for the students to be able to deliver the required quality when they graduate.
Q. Tell us more about the facilities at Raffles Colombo which student enjoy?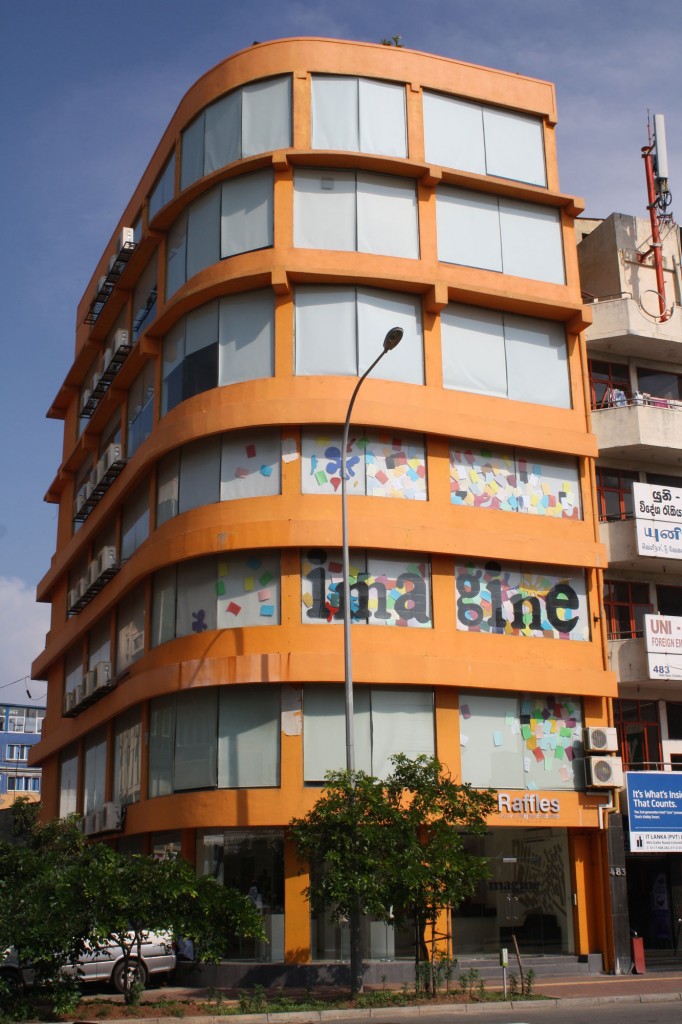 The Raffles network maintains very high standards of facilities throughout all 34 colleges. It is no different here in Sri Lanka. Students here are given state-of-the-art technology and international curriculum delivered by a team of internationally-experienced local as well as foreign lecturers from continents like North America, Europe and Asia. These academically-qualified lecturers with related working experience are carefully hand-picked to deliver the curriculum to the students in the international environment. The academic team, who themselves are still in the business, organizes work-related field trips to the doorstep of the industry partners for the students to grasp the real life working experience.
The other most talked-about strong point is that at Raffles, the ratio of lecturers-to-students is kept at a minimum in order to make sure that focused attention is given to each student thus ensuring that they understand the concept of their studies. A student-to-lecturer ratio of 5 to 1 is not uncommon in Raffles Colombo which gives the students the required time to properly grasp an understanding of the subject matter.
Q. What role do Raffles play in preparing Sri Lankan Designers to compete in the global stage?
Being the largest and most global, I can confidently say that "Size Does Matter". Raffles Colombo, being a part of the largest private education provider in the Asia Pacific, has the advantages to be able to share the resources with students among the 34 colleges. Students and graduates who study with Raffles Colombo get to tap into these resources – such as competitions and exposure from the other campuses in 31 cities in our network – and such be able to understand what international standards are all about. In today's competitive business environment, to be able to compete on the global stage, one must be exposed to the global standards. This is because more often than not, what we have been doing very well at a local level is not sufficient to succeed at the international level were the demands and expectations of international brands are much higher. An example such as the design for "Corelle Art at Ambient Contest in Singapore" – where students from other parts of our Campuses take part – and all the top spots were basically taken by our students.
Q. What are the milestones achieved by Raffles Colombo over the past 3 years?
It has been an eventful 3 years for Raffles Colombo. As we hit the 3 year milestone as a benchmarked international premium education service provider in Sri Lanka, we are proud to say that our students have made their mark by participating in numerous events locally and internationally, ranging from community service projects to fashion shows and competitions. Our junior students, who took part in local design competitions, are showing off their prowess to compete with many international and famous local designers of the same league by bringing back lots of awards and trophies.
Q. What are the notable achievements of students who have passed out from Raffles Colombo?
There are loads of achievements to speak of but let me touch on a few of them. Raffles Colombo interns and graduates, through the Centre of Professional Development, have managed to do their internships and started their careers with international Sri Lankan brands such as Odel, Brandix, etc. Raffles Colombo is reaching 3 years in Sri Lanka but since inception, the group has produced over
5,000 graduates who have been successful in becoming entrepreneurs, started their careers with international brands and have even supported in the expansion of their family business or their own.
Q. What are the job opportunities available for a student who has passed out from Raffles Colombo?
At the end of the day, it all boils down to "job opportunities" and I can confidently say that the work that we put in into our students is second to none. The Raffles Centre of Professional Development (CPD) serves as an important catalyst and platform for the professional development of our students and graduates. We are committed to preparing our students with career development skills and to provide them with resources that support the pursuit of their career goals. By forging extensive strategic industry partnerships, CPD provides a seamless interface between the industry and our students while opening up a world of career opportunities for them. With CPD's help, our graduates can expect top exposure to available jobs. Our industry partners can also expect access to a greater number of talents from across a wider geographical reach than if they were to rely on traditional recruitment methods.
Q. If a Raffles student wants to pursue Masters Level or higher qualifications, what are his or her options?
For those who want to aim for a Master's Degree or beyond, a Raffles education can be an excellent stepping stone to make those
dreams come true. International Mobility – REC's unique international delivery network offers its students major opportunities to complete different levels of their studies in different countries in the Raffles network. The degrees awarded by RCDC are recognized internationally through articulation agreements and in fact many of our graduate students have been enrolled in universities in the United Kingdom and the USA for higher and further studies.
Q. In which countries are Raffles degrees widely accepted?
The Raffles College of Design and Commerce (RCDC), Sydney, Australia programmes are currently accredited by the Tertiary Education Quality and Standards Agency (TEQSA). These programmes are also permitted by Council for Private Education, Singapore (CPE). RCDC is a university-level institution listed on the register of the Tertiary Education Quality and Standards Agency (TEQSA) of Australia.
The degrees awarded by RCDC are accredited by the Australian Government through TEQSA and are recognized by all Australian universities. RCDC degrees also comply with the Australian Qualifications Framework (AQF). RCDC is also listed through the Australian Government's Department of Education with CRICOS (Commonwealth Register of Institutions and Courses for Overseas Students).
The degrees awarded by RCDC are recognized internationally through articulation agreements and in fact many of our graduate students have been enrolled in universities in the United Kingdom and the USA for higher & further studies.
A notable point worth mentioning is that Raffles Singapore has been ranked in the "Top 50 Fashion Schools in the World" by Fashionista.com, one of the largest independent fashion news sites based in New York.
comments powered by

Disqus