English and Personality Development for children with prestigious qualification from City and Guilds, International
View(s):

Children from the ages of 6- 13 years,   are offered a unique opportunity to enhance their communication skills in English and develop their personalities whilst obtaining   a prestigious   internationally acclaimed certificate.

English   for  Young Learners,  with international benchmarks from City and Guilds, International,  UK, is one of the key courses on offer at the Rainbow Institute of Communication and English.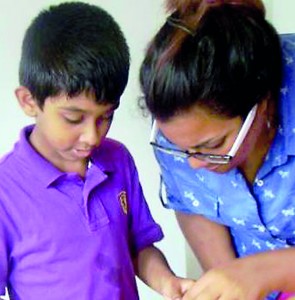 The institute set up recently,   at No 44/1,   Haig Road, Bambalapitya,  is led by a group of Sri Lankans with strong professional and academic credentials.  The team is committed to empower children, youth and adults with communication skills in English.
This is a timely initiative mooted by national university academics, corporate trainers  and senior teachers who have  set up the Rainbow Institute of Communication and English (www.rainbow.lk),   affiliated to City and Guilds, International, UK.
The institute is headed by Manique Mendis, a leading Communication specialist, with more than twenty five years of senior management experience in local and international organizations. Sandra Fernando, a literary personality with long experience in teaching in International schools in Sri Lanka and overseas, is providing leadership for quality assurance benchmarking and academic development. The well known academic,  Dr Mahim Mendis, a British Chevening Scholar with postgraduate research degrees from UK, USA and Singapore is the chief educational adviser of the institute.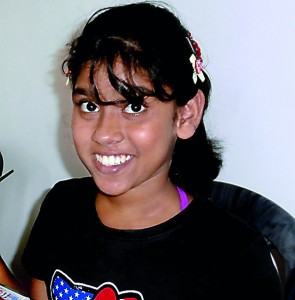 "The Rainbow Institute of Communication and English is filling a vacuum   for high quality teaching at an affordable price,  in a context where  private sector education has become a highly commercialized  commodity", stated Dr Mahim Mendis.
YOUNG LEARNERS COURSES – SPOKEN AND GENERAL
The   Young  Learners Courses are offered at different  levels for children between the ages of 6- 13 years.  The courses are classified into two areas: One course focuses on developing effective speaking   and presentation skills. The other,   focuses on reading, writing and listening whilst   developing   general English skills including grammar, vocabulary and spelling.
LEARNING WITH FUN
The teaching methodology adopted at Rainbow,   in keeping with modern international techniques is    the   hands on,   active engagement approach.  All Rainbow courses are subject to a strict quality control process,   adhering to   City and Guilds International criteria.
"Our children's courses impart learning with fun. Children   enjoy themselves whist learning  English at our institute. Our well qualified and experienced instructors are committed to support each individual  child  to develop his or her creativity, confidence and leadership traits,  whilst  developing their communication skills in English", stated Manique Mendis.
The  Young Learners Spoken classes are scheduled to kick off  at the institute's premises at 44/1,  Haig Road ,  Bambalapitiya on Monday,  7 October and will continue every Monday,  for two hours, from 3.00 pm- 5.00 pm.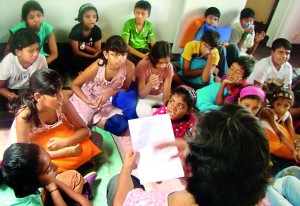 The Young learners General classes will start on Tuesday,   8 October and continue every  Tuesday,   for two hours,   from3.00 pm- 5.00 pm.
Each level covers a     duration of one year.   On successful completion, the children can sit for the world renowned City and Guilds,  UK.   exams.   Candidates are assessed and certificates issued directly from UK. Certificates are awarded annually at a grand ceremony organized by City and Guilds Sri Lanka office. Children who obtain high grades are eligible to win City and Guilds UK  Medals of Merit.
Call Rainbow Hotline 0114 380 400 or 0777352118, to ensure placement in the first batch.  Vacancies are   filling up fast.
comments powered by

Disqus