Chinese visitors surge ahead as Jan-Aug 2013 shows overall arrivals rise by 14 %
View(s):

Tourist arrivals continued to grow, heading for more than a million visitors this year with August 2013 figures showing a rise of 26.1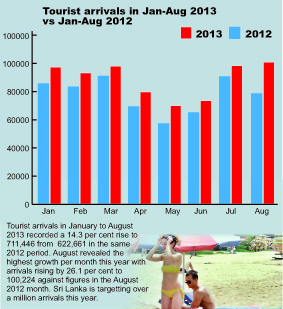 per cent to 100,224 from the same month last year.
As per arrivals for January-August 2013, Sri Lanka Tourism reported a 14.3 per cent rise to 711,446 against the same period in 2012.
India continues to call the shots as the highest provider of visitors to Sri Lanka but percentagewise this growth in 2013 has not been phenomenal. Arrivals have slowed down due to a combination of a few attacks on Sri Lankan pilgrims in South India followed by fears, though unfounded, that Indian travellers would be subject to a similar situation, and other issues including the price of the destination. Indian visitors recorded a marginal 4.9 per cent rise to 113,541 in the eight months to August 2013 compared to the recession-hit UK which rose by 20.7 per cent to 53,218 for the period under review. In the month of August, the UK (once Sri Lanka's biggest source market and now in second place) almost matched Indian arrivals at 12,353 versus India's 14,528.
China, an emerging market that Sri Lanka hopes will generate 60,000 arrivals this year from less than half that amount in 2012, recorded a 74.3 per cent to 24,306. However these figures include those working on construction sites run by Chinese contractors. The biggest rise for the 8-month period came from an unexpected quarter – Indonesia where arrivals jumped to 121.5 per cent to 4,373 from 1,974 in January-August 2012.
Arrivals from Germany, the third largest market, rose by 20.7 per cent to 53,218 while the French showed a 10 per cent gain to 43,328.
comments powered by

Disqus