Better to start a business as interest rates low-RCB poll
Commercial banks the safest investment
View(s):
A street survey this week by Colombo-based Research Consultancy Bureau (RCB), in conjunction with the Business Times, on the most-safest investment options has given a 'thumbs-up' to commercial banks.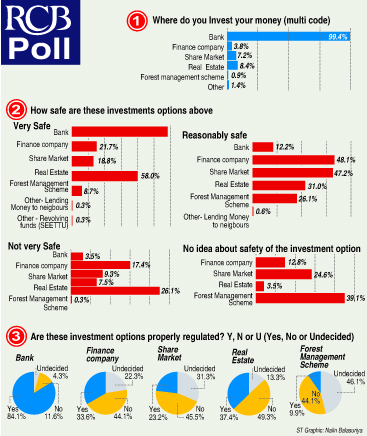 Residents in middle-class societies were also wary of investing in the share market, saying all of a sudden shares prices go up as they are controlled by 'government bigwigs'. "We deposited in the share market but did not get benefits resulting in losing the very deposits," one woman said.
Interviewing several respondents on the street, the poll revealed that 99.4 per cent opted for bank investments with just 3.8 per cent favouring finance companies. There were also respondents who invested in more than one option, as seen in the graphic.The polls were done separately by the BT (on email) and its polling partner RCB and the results were not only revealing but occasionally different from one another. (See Page 1 for BT poll results)
For instance, while the RCB poll showed near 100 percent support for bank investments, that figure was 50 per cent in the case of the BT poll with investors having 2-3 other options.
Respondents raised concern over the cost of living saying the interest from deposits was not enough to meet day-to-day costs.
"It is better to start a business now that the interest on the standard deposits is low," said one respondent.
Other comments:
=Because of the danger in depositing in state banks it is advisable to deposit in private banks though the interest is low.
=After people have been cheated by Golden Key, Sakvithi and Danduwam Mudalalis there is no confidence in private investment options too.
=We use to invest in gold but since gold prices fell, even that is doubtful.
=The best investment is in real estate since land prices are rising in Colombo. This is better than saving in banks.
=Fixed deposits are better than profits from cultivation in agriculture.
=Gone are the days when we had money to save or invest.
=Unlike those days now we cannot keep a fixed deposit in one bank for fear of bankruptcy. It is better to withdraw such deposits when there is a problem emerging and invest in another bank.
=Bank reports are also not accurate. I am a lawyer and I know how it is.
=We got caught to Sakvithi and now we have no confidence in finance companies too.
=The sweet stories told about private banks in the advertisements disappear when we do business with them.
=People talk about teak cultivation. Some talk about investing without even knowing what it is. It is doubtful if after even 15 years one gets any benefits.
Letter
Another finance company bites the dust
Reference to the editorial comment in the Businss Times last week headlined "Finance companies: Again and again", I would like to thank you for writing and advising the general public on this topic. The articles published in line with it were a great help since I am also having problems with a similar company at present.
This company is called the Nations Building Society Ltd, where my brother and I have deposited our savings;
- Mine -
Rs. 515,333
- My brother – Rs. 898,000/- + 50,000/- each for three children to receive Rs. 1 million each in 21 years.
Recently this company writes to us saying that they are unable to pay these monies and that it will be handed over to a new company Nations Lanka Finance and the payment plan would be as follows ;
-80% will be issued as shares (Non-Voting Ordinary Shares) and the balance
-20% repayment in 60 installments from Sept 2013
When I went to meet them they showed a company profile of Nawaloka Group of companies in which Nations Lanka is a subsidiary and that we will have to follow up this with them in future, since the shares will be issued through them.
Actually this is our hard earned money, for our children's future, and we have no say in this. Isn't this unfair? Like many companies this company too was registered with the Central Bank which has , not done anything about it
We will be taking legal action against this. We urge you to keep the public informed on these developments.
Mrs. N.P. Narendran
Himbutana
comments powered by

Disqus