Mango Tree gets sizzling hot
By Smriti Daniel
View(s):
We're dining out at the Mango Tree but there's a hole in our table. It turns out that the gaping square is just the perfect size for a grill. Handling it with care, a waiter brings a portable one to us and slides it right in, burning coal and all. Skewers of meat and vegetables follow: tender little morsels of chicken and fish, florets of cauliflower, squares of paneer, little baby potatoes still in their skin and whole button mushrooms. Each has its own distinctively Indian marinade – the cauliflower is coloured a gorgeous broccoli-green from a mixture of mint and the coriander, the potatoes are a golden yellow speckled with roughly ground pepper, the fish and the chicken are the vivid red you'd expect from a tandoori seasoning. They're all delicious and they'll keep coming for as long as you sit there.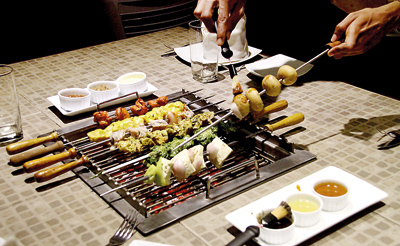 This fun new twist on dining out is the latest addition to Mango Tree's offerings of otherwise staple North Indian fare. Part buffet, part BBQ, guests are invited to partake in the restaurant's little courtyard. During the lifespan of the all too short-lived Rize Bar, the courtyard was sectioned off, but has now been redecorated so that the oversized faces of Indian Bollywood stars stare back at you. The tables themselves, custom built to the restaurant's requirements, are large with the grills in the middle. We're offered a choice between a vegetarian menu (Rs.2000 nett) and a non-vegetarian one (Rs.2500 nett).
If the carnivore in you isn't satisfied with the fish and chicken that comes with the latter, you can order a mutton or prawn skewer for the additional cost of Rs.300 nett. Part of the deal is a drink as well as a filling main course of a rice and naan with vegetable, a chicken or paneer curry and a personal favourite, the restaurant's beautifully light yellow dal.
It turns out the BBQ is a fully customizable experience – I'm partial to Indian marinades but you can also ask for a simpler garlic and butter marinade on your vegetables and meat. You also dictate how much of the cooking should be done at the table. Ask for it raw and you can have the fun of tending to it yourself – though this can be time consuming. (We're happy to take ours 50% done.) The grill is hot, and the coals splutter as we use the brushes provided to slowly baste the meat.A choice of seasonings is placed in bowls alongside and includes lime, black pepper and chillie. Once done there are dips – a pale cheesy mustard, a sticky sweet 'Indian' BBQ sauce or a spicy sauce made with green chillies. 
The grill can actually be almost uncomfortably hot, radiating waves of heat though thankfully little smoke.Pulling your chair back and allowing the fans to do their work is the trick to enjoying your meal anyway. A deal that lasts till the end of September gets you two alcoholic beverages for the price of one but my ice tea is sweet, cold and perfect.
You can eat as much as you want – but there are no takeaways so don't over order. Our only disappointment comes at the end of the meal when we're offered a choice of ice cream with a chocolate sauce and nuts – I'd much rather have some of the Mango Tree's beautiful rasmalai or possibly a kulfi.(We get one to go anyway – a treat for later.)Though we're in and out in just over an hour, this is actually an experience designed to sprawl over an evening and a table of 10 next to us seems to be doing it right. The comments scrawled on an otherwise pristine white wall serve as a kind of guestbook but it's the invitation above that draws a laugh: 'Keep your kitchen clean and eat at the Mango Tree.'
comments powered by

Disqus