A song for Alzheimer's
View(s):

St. Andrews Scotts Kirk comes alive with an enjoyable evening of beautiful music on the 21 September performed by ASTERIA – an all Female Voice Choir. Asteria was founded in 2010 when a group of passionate singers, all cherishing Methodist College, Colombo, Sri Lanka as their alma mater, decided to form a choir under the direction of Mahen Peiris. The female amateur choir comprises singers of all ages united in their love for singing; yet another unique feature.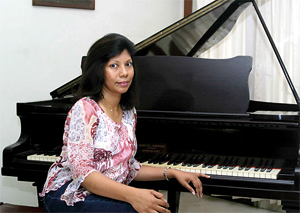 Named after the Titan Goddess of Falling Stars, Asteria continues to sing and experiment with new genres of music and thereby has a wide repertoire that encompasses choral, spiritual, jazz, pop, and acappella music. Asteria is directed and trained by Mahen Peiris, a past student of St. Thomas' College, Mount Lavinia, Sri Lanka and a holder of the Performer's Certificate in Singing by the Trinity College of Music, London.
The second half of the programme gets going with The Menaka Singers essentially a group of students pursuing vocal training under the tutelage of Menaka de Fonseka Sahabandu. 
Menaka, a Fellow of the Trinity College London and a Licentiate of the Royal Schools of Music in both Piano and Singing, has been a frequent soloist with the Symphony Orchestra of Sri Lanka since her debut in 1989 playing Saint Saens' 2nd Piano Concerto in G minor.
She is also a member of the Symphony Orchestra of Sri Lanka. Menaka, a teacher of Piano and Voice with a teaching career of almost 30 years is the Founder /Director of "Menaka Singers'' and the ''Menaka Singers Opera Ensemble.'' Menaka is presently a visiting lecturer at the University of Visual and Performing Arts of Sri Lanka.
This evening's proceeds graciously raised by their performances at this concert are in aid of the Lanka Alzheimer's Foundation where entrance is by programme at Rs.500 a programme.
Call the Foundation on 2667080 for more details
comments powered by

Disqus