Opening doors to experience world recognized degree from China
View(s):

ECES is a Registered Company in Sri Lanka incorporated on 26th Jan 2013, a professional consultancy office for China and Europe focused Education. We are specialized in study and carrier counseling for Sri Lankan students & parents.

Benefits from our services

We are promise to provide the best consultations and care for our students among many other prestigious education consultants, Presently ECES affiliated to ;

Nanjing University
Nanjing University of Aeronautics & Astronauts
Jiangsu University
Nanjing Normal University
Shanghai university of Traditional Chinese Medicine
South East University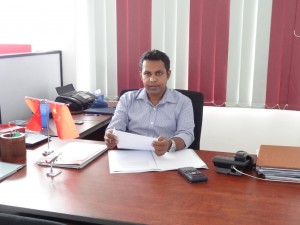 Nanjing University of Science & Technology
Nanjing Art University
Nanjing Sports Institute
Degree Programmes that we offer ….
- Medicine
- Pharmaceutical Science
- Food science and Engineering
- Computer Science and Technology
- Architecture
- Civil engineering and Project management
- Chemical Engineering
- Aeronautical Engineering
- Mechanical Engineering
- Software Engineering and Management
- International Business
- Business Administration
- International Economics and Trade
- PhD/MA in Teaching Chinese as a Second Language
- Short term Chinese study program for professional purpose
- Diploma in Automobile Engendering/ Food Science and Engineering
- Short term training programme at Nanjing Sport Institute
- International Acupuncture Foundation Course
Reasons why you choose China for higher studies
- Studying in China is an excellent opportunity to explore the world's most populous country.
- Tuition is on the lower end of the scale
- Quality of education and international recognition
- Employment advantage
- Getting around in China is convenient and inexpensive thanks to a well-developedand modern transportation infrastructure.
Facilities such as:
- Excellent learning environments
- All universities affiliated to ECES are rated in first 200 world best universities.
- All Universities are located in developed city of Nanjing with several universities and colleges of higher education such an awesome city making it a great location for the second summer Youth Olympic Games in 2014.
- Consult / advise to select your best choice as per your budget and easy payment process
- We share the parent / child responsibility until they graduated from universities
- Consultation and provision of safety & security of students during their stay in China / Europe
- Flexibility in selecting your programme commencing from 1 month to 6 years duration
- Facilitate travel/visa formalities, accommodation and meal arrangement in university premises or in close proximity
- Orientation training programmes are available upon request and Chinese language classes will be held in Colombo under our guidance Ajith Jayasinghe
- B. A University of Kalaniya in Sri Lanka.
Managing Director
Andrea  Sciortino
LLB (Italy), LLM (China) – Attorney at Law(Italy)
Consultant – Europe universities
James Heib
BA(Mgmt)
Consultant – Canadian Universities
Rajesh Velani
Consultant – UK Universities
Randika Wimalasiri
Bsc Eng( ITE)
Consultant – Singapore & Asian Universities
comments powered by

Disqus