IIHE conducts 2nd Rotaract Installation
Come as you are- leave with a difference
View(s):
Imperial Institute of Higher Education (IIHE) is the only institution in Sri Lanka directly affiliated to the prestigious University of Wales, UK, making it an off-shore campus. Since it's inception in 1996 IIHE has provided education of the highest quality in BSc (Hons) Business Management, Hospitality Management and MBA which is evident in the recognition received not only in the academic arena but also in the corporate world. The degrees offered at IIHE are internal degrees from the University of Wales, UK and IIHE follows the Quality Assurance Authority Standards of Great Britain.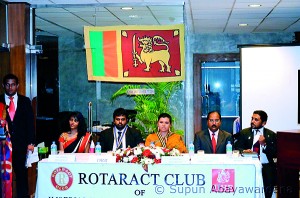 IIHE being the pioneers of private tertiary education in Sri Lanka has been organizing various congregational and recreational events such as beach rugby; softball and leather ball cricket tournaments; Avurudu, Thai Pongal Festivals, Christmas celebrations and student trips through the student union. In addition to academic excellence required to be competitive in the corporate world, IIHE encourages these activities to inculcate leadership qualities and sportsmanship among the student community.
IIHE, last year, embarked on a journey by establishing the Rotaract Club of IIHE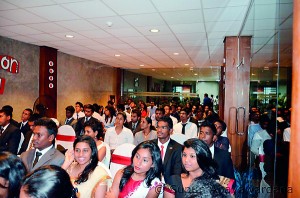 (RCIIHE) to improve fellowship and social service. RCIIHE became a part of this 44 year old movement and obtained charter membership on the 12th of June 2012. Last week RCIIHE, had the 2nd installation where Miss. Deepika Selvaraj was selected as the President for the year 2013/14.
The 2nd installation of RCIIHE was held on the 5th September 2013 at 6.00pm at the university premises. This occasion was graced by the presence of PHF Rtn. Abdul Waheed, Chief Guest Mr. Trevor Mendis, The Chief Executive Officer of IIHE and the Past District Govenor, Mr. Nalin Fernando, Rotarians from our sponsor Rotary Club of Capital City, IIHE Management and staff, Rotaractors from various other clubs and Charter members of RCIIHE.
The newly elected President Rtr. Deepika Selvaraj, Secretary Rtr. Harini Jayasinghe and the dynamic Board of Directors hopes to carry out many positive and valuable projects in the 2nd year to like the previous year, aligning with their theme "Come as you are- leave with a difference". The club has many projects lined up for the 2nd year, 2013/2014, and has prioritized the need to Connect by reaching out and uniting not only with those in need, but also with fellow Rotaractors as well as interactors, in an effort to Conserve individual well being and the environment as a whole.
comments powered by

Disqus