IESL Induction &Graduation 2013- A shining moment
View(s):

The Annual Induction and Graduation Ceremony of the IESL was held at the Waters Edge on Tuesday, 27th August, 2013 from 4.00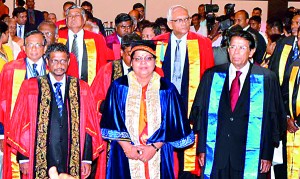 pm onwards. Prof. (Ms.) VasanthyArasaratnam, Vice-Chancellor, University of Jaffna was the Chief Guest and Capt. M.G.Kularatne, Chairman / Managing Director, MAGA Engineering (Pvt) Ltd. was the Guest of Honour. The large gathering consisted of Council Members of the IESL, Past Presidents of the IESL, special invitees, awardees and family / friends who accompanied them.
This year, 164 engineers were inducted as Corporate Members and conferred the Charter status after going through a rigorous process of training and gaining experience under the guidance of senior Chartered Engineers and passing the Professional Review exams and interviews. They received their certificates from the Chief Guest and would join the ranks of the approximately 4000 already existing Corporate Membership of IESL.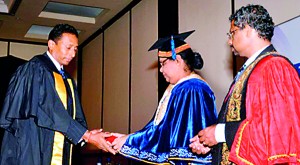 Graduation certificates were awarded to 34 students who completed the IESL Engineering Course which has become the best alternative pathway to becoming a qualified engineer for students eligible to enter the universities but were unable to gain entrance due to limited intakes of the state universities.
Scholarship were also awarded to 5 winners of the Junior Inventor of the Year (JIY) – 2012 competition. This competition was pioneered by the IESL to foster innovation and creativity among school children and has become the pathway to larger forums for promotion of such talents, the Sri Lanka Science and Engineering Fair (SLSEF) which is held in Sri Lanka and the Intel ISEF held in the USA. Since participating for the first time in 2008 IESL JIY winners have succeeded in winning 08 awards at the Intel ISEF. This year too one of the winners of the JIY- 2012 competition has won a First Award in the Electrical and Mechanical Engineering category at the Intel ISEF 2013 Grand Awards Ceremony held on 17th May 2013 in Phoenix, Arizoan. USA.. Similarly, one of the previous year's Intel ISEF winner who was also the JIY winner had the unique distinction of a newly discovered planet being named after him in recognition of his win at this international competition which is the world's largest pre-college science competition
comments powered by

Disqus