Explore your potential with University of New South Wales
- Ashwin Hemmathagama
View(s):
Q :What are the international rankings of UNSW?
Sue – UNSW is among the top 100 Universities in the world. We are positioned at 85th overall in the 2012-13 Times Higher Education World University Rankings and a ranking in the top 100 Universities for global reputation and academic prestige. QS World 2012 has ranked us at 52nd and we are among the prestigious Group of Eight leading teaching and research Universities in Australia.
Q : What are the key strengths you have in comparison?
Sue – UNSW was established in 1949. Today, with over 50,000 students from over 120 countries, we are one of Australia's largest and most cosmopolitan universities renowned for the quality of its graduates and its world class research. Our main campus is located on a 38-hectare site at Kensington, seven kilometers from the center of Sydney. In addition to the College of Fine Arts in the Sydney suburb of Paddington and UNSW Canberra at the Australia Defence Force Academy we have eight faculties including Arts and Social Sciences, Built Environment, Engineering, Law, Medicine, Science, the Australian School of Business, and the College of Fine Arts. All these offers extensive range of undergraduate, postgraduate and research programs.
Q : What are the disciplines with high demand from international students, especially the Sri Lankans?
Alison – The Australian School of Business has strong demand. Other faculties such as Engineering, Law and Medicine are also in demand. These programs are renowned for their academic excellence and graduate outcomes. Our students get great jobs at the end and are very satisfied with their learningexperience.UNSW is well known for developing new ideas and promoting lasting knowledge in all faculties. The academic environment at UNSW allows the outstanding students and scholars from around the world to be inspired to excel in their respective programs of study and research.
Q : Is there a reason for you to focus on Sri Lankan students?
Sue – Well, we have students from over 120 different countries. Sri Lankans are an important and valued part of our student community. They are excellent students and do very well academically and socially. They work hard and are eager to succeed. Australia is a multicultural country and there is a large Sri Lankan community in Sydney. People from Asia account for 11% of Sydney's population. So, these students will not miss their culture.. Apart from that, Student Development International (SDI) assists international students to discover the academic and cultural rewards of studying in Australia. From the time you arrive at UNSW through to your graduation SDI assists you to create a student experience that is enriching and personally inspiring via a wide range of services and programs designed suit your needs.
Q : How is the living conditions and safety in Sydney?
Alison – Sydney is home to 4.5 million people. The city's international flavour is due to the fact that 40% of its residents were born overseas. Sydney has excellent ratings in quality-of-life surveys based on the quality of its air and water, the beauty of its natural environment, its climate and the level of infrastructure and services available.A unique feature of Sydney is the many suburban beaches along the city's coastline, each with its own charm and character. Then there is Sydney Harbour, which divides the city between North and South, and offers scores of sheltered 'harbour beaches' that are very popular.Sydney's pleasant climate, multicultural population and attractive natural environment make it an ideal place to experience diverse cultural and culinary delights and to get involved in a huge range of outdoor and indoor activities.
Q : What are the options available for UNSW graduates to stay in Australia for a long period and to be employed?
Alison –In 2012 the Australian Government introduced a post-study work rights visa for students to gain work experience in Australia after their studies have finished. This is a fantastic opportunity for students to gain experience working in Australia. UNSW is globally recognized for professional programs with cutting-edge teaching, research, state-of-the-art facilities and quality of student life. Our graduates are highly sought after by employers and we have the highest starting salaries of any Australian university. Our modules are regularly updated with industry experts to meet the demand and skills requirements.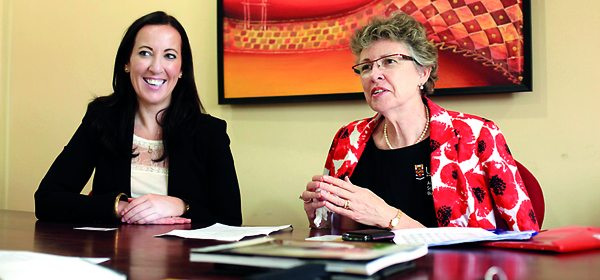 Q : How do you support student visa application and identify genuine students?
Sue – We are in partnership with the Department of Immigration and Citizenship (DIAC) in the Streamlined Visa Process (SVP) introduced in March, 2012. The SVP greatly benefits international students by streamlining documentation required for a student visa application and greatly hasten the visa application process for the vast majority of students coming to UNSW. We attract high quality, genuine students and have had no issues with visa processing so far. Edlocate (Pvt.) Ltd. is our partner in Sri Lanka. They are more than willing to assess the applications and assist our students.
Q : What are the available options for students who would like to join UNSW just after their O/L examination?
Alison – There are certain entry criteria an eligible student will have to meet. However, a Foundation Studies program is an option for students after their O/L. This usually takes 9 months and is an excellent pathway course to a Bachelor's degree.
Q : What are the available options for postgraduate studies?
Sue – We have both postgraduate course degree programs and postgraduate research. Postgraduate coursework degree programs and Postgraduate research degree programs are completed after the student has previously completed undergraduate studies at a University level. Coursework programs focus on developing knowledge in a particular area of study through a structured program that can include lectures, tutorials, and group-work with fellow students and formal assessments such as exams and assignments. This will last for a period of up to two years designed to give students specialist knowledge in a particular field of study.
Postgraduate research degree involves in-depth self-directed study under the guidance of an academic supervisor with the aim of completing a research thesis. Research programs allow students to focus on a particular field of study that they have nominated. The duration can be up to four years allowing you to commonly attain Doctorate degrees, however, shorter Master by Research programs are also available at UNSW.
University of New South Wales (UNSW) is one of Australia's leading research and teaching universities. It offers a wide array of academic disciplines, highly accepted for quality and timeliness, which meets the modern-day requirements of the world. Following are the excerpts of an interview held with UNSW Deputy Director – International, Ms. Alison Jenkins and the Director – International & Admission (Australian School of Business) Ms. Sue Bennett-Williams exploring the potential for Sri Lankan students to enter UNSW.
comments powered by

Disqus