Canfi: A brand of… a fight for…& a journey towards… HOPE
View(s):

(The legacy of Canfi through the eyes of its founder Tharindu Ameresekere)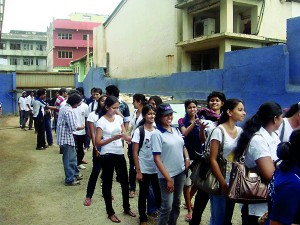 It all started in 2010, when it dawned to me that Wisdom Business Academy being a leader in CIMA education in Sri Lanka and a hub for energetic, educated youth would be the ideal base to launch a fight against one of the deadliest killers. It was a hunch in me that many would have been affected by one of the deadliest diseases in the world. It's a disease the name of which ends all hope and motivation for many, and for their loved ones. Cancer takes over 7.5 million lives each year. It spears no one regardless of wealth, age, gender etc. While it destroys the individual after sometime of agony, it continues to torture the loved ones throughout their lives.
The facts go on, but rather than analysis, I decided action as the need of the hour. Having put the idea across to the students at Wisdom, my hunch was proven right as many volunteered to help. So we started.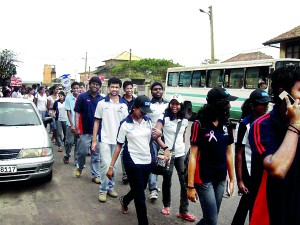 2010: 150 tiny feet with mighty hearts
Sep 3rd 2010 was an unforgettable date. Around 10 Am from Wisdom, we embarked on a journey which would last a distance and time that no one ever envisaged. We travelled from Kolpetty Station road to Henry Pedris stadium. At the end refreshments were served and a student sang to his heart's content much to the thrill of others.
We raised over 20,000 Rs and the little medicine we could buy from that was indeed a joy to us. The journey has begun.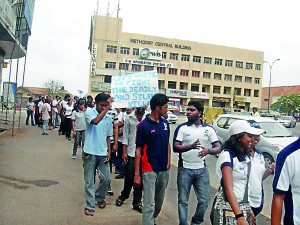 2011: The real fight begins
We proved the ethos that we can in 2010, but now it was time to take matters to the next level. In 2010, one week after the walk ended, one of the best things happened to Wisdom occurred. The new foundation batch commenced. In many ways this was a defining batch for Wisdom.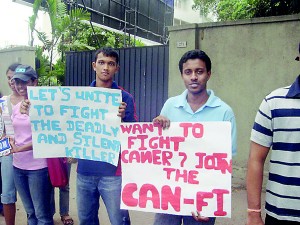 The batch performed brilliantly at exams surpassing some of the previous record pass rates for some subjects (including my subjects where they coincidentally learn CSR as well) and they are still active members of Wisdom projects. Two outstanding individuals in the batch were Praveen Jayewardene, former head prefect of Wesley College and Miss Anouk Varma, an old girl of Good Shepherd convent. They were naturally accepted as leaders by their peers and to this date lead the Canfi project at Wisdom.
A walk as organized once again though this time with harder thumping feet of over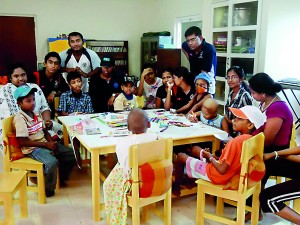 400 students. Over Rs. 450,000 was raised on 2011 September 30 where students paraded to Henry Pedris stadium where a DJ event and a carnival was conducted. Canfi was truly growing. The funds collected were channeled towards the installation of a trilingual signpost system to enable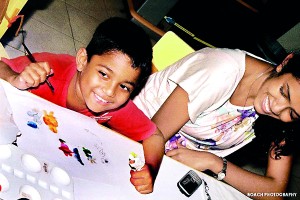 patients and visitors to find their within the cancer hospital which was an arduous task earlier specially re non Sinhalese and non-English speaking patients and their families coming from far away. Kiss FM was our media sponsor.
2012: Rise Up for Hope Concert
I'm a brand consultant by profession. I believe in applying branding even for a social cause. But like all good brands, as it got stronger and popular, Canfi too had to evolve. From 2 walks, the focus shifted to a music concert Several leading artists from Sri Lanka joined hands with us (including Kasun Kalhara, Naddeka Jayawardene, Indrachapa Liyanage, Billy Fernando & Naadro) and the biggest joy for me was to see that although a majority of the performances were in Sinhalese, Tamil & Muslim students too attended in equally proportionate numbers showing their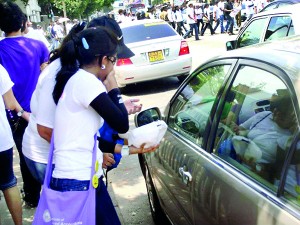 solidarity and support. In a time of ethnic and religious violence's spiraling to new heights, I believed this was a wonderful gesture. Also it was in this year that we had brand ambassadors coming onboard for the first time and we are grateful to Dr. Kishu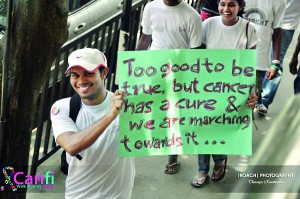 Gomes as well as star cricketer Angelo Mathews who took time off to provide us audio clips to be aired on Kiss FM who was out media sponsor for the second year. The show rose over Rs. 400,000 and the funds were used to procure essential medicines and were donated to the cancer hospital.
2013: Walk against Cancer: Rise up for Hope
The fight continues. With support from more stars, with more vigor and more students joining the organizing committees to support this great cause, Canfi 2013 will be a walk held to coincide with The World Cancer Day as well as a carnival at the end of it. The GOSL too has joined the fight and it is a great encouragement. For more details on participating in the walk or providing funding or sponsorships please speak to myself Tharindu Ameresekere on 0777 481 581 or the Project chairperson Praveen Jayawardene on 0716 346 639. As the founder I have tears of joy in my eyes as I witness the growth of this fight. But the tears of sorrow in the eyes of Cancer patients and their loved ones are greater. That is why this fight will never stop, with each year, with each Canfi we send one word, one message out to the world, "CANCER WE ARE FIGHTING YOU".
comments powered by

Disqus